Is the Scooter Craze Heading Into a Wall?
Electric scooters have defied city ordinances, incited protests and caused serious injuries to riders and pedestrians alike. What's next? A lot more of it.
Press Release
-
updated: Aug 31, 2018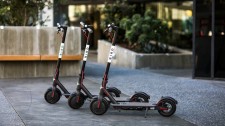 CHICAGO, August 31, 2018 (Newswire.com) - What started as a Silicon Valley fad has quickly buzzed across the country. In mere months, electric scooters have defied city ordinances, incited protests and caused serious injuries to riders and pedestrians alike. On Aug. 29, 2018, for example, a scooter struck a pedestrian and sent him to urgent care. Earlier this month, a woman was killed while riding a Bird scooter in downtown Cleveland. LegalRideshare, is a close observer of the rideshare community and there's one thing that's become very clear:  This is only the beginning.
As a firm entirely focused on rideshare-specific accidents and injuries, success depends on the growth and popularity of companies like Uber, Lyft, Divvy and, now, electric scooters. Simply stated, LegalRideshare is pro-rideshare, pro-shared mobility, pro-innovation and pro-tech.
But, above all, LegalRideshare is about safety.
While there's clear benefit to the utility and inevitability of motorized personal transport, there's still serious concerns about scooter companies' apparent waiver of liability.
Consider Lime, which recently received a massive investment from Uber and is featured on the rideshare giant's app. Several sections of Lime's Terms of Service insulate the company from liability for user and third-party injuries.
For example, riders must "assume all responsibilities and risks for any injuries or medical conditions" resulting from crashes on the scooters. Further, riders are "solely responsible and liable for all consequences, claims, demands, causes of action, losses, liabilities, damages, injuries, costs and expenses, penalties, attorneys' fees, judgments, suits, fees (including impounding fees charged by any local government) and/or disbursements of any kind" as a result of using the services.
Let's break that down.
Lime disavows financial responsibility for a rider's medical bills, lost wages, disability and pain and suffering caused by a scooter crash. If a Lime rider crashes into a third party, the rider — not the company — bears full financial responsibility to the injured person. If a Lime rider crashes into a parked car, the rider — not the company — must pay for the property damage.
Consider that. Even if Lime is sued (and they will be), the rider must reimburse Lime for any money it pays to an aggrieved party, including the company's attorneys' fees and litigation costs.
Lime gets to throw its hands in the air and say, 'Check the fine print, it's not our problem.' Is that acceptable?
Let's say a Lime rider crashes into a pedestrian and breaks an innocent person's leg. A seemingly innocuous ride home could result in financial ruin for both parties. Per Lime's Terms of Service, the pedestrian would need to sue the rider for medical bills and lost wages. That could cost the rider tens — if not hundreds — of thousands of dollars.
If the rider was not independently wealthy or have special liability insurance, the pedestrian would have no recourse; she would have to pay for those expenses herself. And, again, Lime would seemingly go on its merry way. This is already occurring in Cincinnati. The pedestrian who was struck by the Bird scooter called the company to report the collision ... and still hasn't heard back.   
Companies like Lime and Bird want to change the way people think of transportation. Legalrideshare is all for it. But with great innovation, comes great responsibility and people can't have companies skirting their obligations to our community.
Source: LegalRideshare
---
Categories: Media and News
Tags: bird, insurance, lawsuit, lime, rideshare, scooter accidents, scooters
---