Is Spider-Man in Your Basement? Are the Avengers in Your Garage? NewKadia Converts a Quarter-Million Comics to Cash Each Year
Press Release
-
updated: May 2, 2018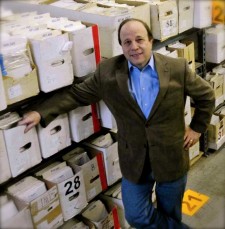 NORRISTOWN, Pa., May 2, 2018 (Newswire.com) - Superhero movies are all the rage. This past weekend, another superhero blockbuster premiered worldwide, "Avengers: Infinity War". And at the heart of all superhero movies are the old comic books that inspired them.
For nearly 20 years, comic book collectors and their families have turned to NewKadia to convert their comics into cash with a unique consignment program.
Jim Drucker, former commissioner of both the Arena Football League and the Continental Basketball Association (the predecessor of the NBA's G-League), took his childhood collection of comics and turned it into an online juggernaut. He's built the world's largest internet-only comic book store. It sold over a quarter-million comic books last year.
"I was looking to sell my own collection in 1999," said Drucker. "I couldn't find anyone to help me, so I started selling my 800 comics online. Now, eighteen years later, we sell a quarter of a million comics each year, representing most every comic book character, era and publisher. Local brick and mortar comic book stores can't match our three-quarters of a million book inventory. So, with 75,000 customers in 106 countries, we find a buyer for most every comic.  But more importantly, with a worldwide customer base, we can turn a person's comic books into cash faster than anyone."
How does NewKadia work? Collectors looking to sell, get their comics listed at NewKadia.com.
Each comic is individually graded with an assist from NewKadia's computerized grading system and then listed for sale at NewKadia.com.
To assure fast sales, a state-of-the art, proprietary software system adjusts the price of every comic every day, based on the current supply and demand of each issue. 
When one of NewKadia's 4,000 daily shoppers, places an order, Drucker and his team ship the comics from their fulfillment center in suburban Philadelphia and a check is sent to the comic's owner for their share of the purchase price.
The top 10 selling comic books at NewKadia in the past year were:
1.     Amazing Spider-Man
2.     Fantastic Four
3.     Batman
4.     X-Men
5.     Justice League of America
6.     Daredevil
7.     Uncanny X-Men
8.     Action Comics
9.     Avengers
10.  Detective Comics.
Additional information about selling comics with NewKadia is available at NewKadia.com/Sell.
Media Contact: Jim DeLorenzo, 215-266-5943, jim@jhdenterprises.com
Source: NewKadia
Share:
---
Categories: General Interest
Tags: Arena Football, Collections, Collectors, Comic Books, Comics, Estates, G-League, NewKadia, Old Comics, Selling Comics, Superhero, The Avengers: Infinity War
---