Irene Koh Studio Sets to Take the Stage With Magical Ocean Adventure Collection
Colorful wall art depicting adorable underwater characters with heartwarming stories to help mommies create the magic of amazing ocean adventures for their little ones.
Press Release
-
updated: Aug 1, 2017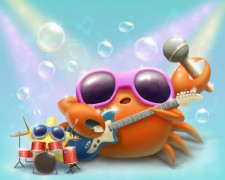 Singapore, Singapore, August 1, 2017 (Newswire.com) - Rising Singaporean artist, Irene Koh from Irene Koh Studio, is launching the brand new Magical Ocean Adventure Collection of wall art, with each design hand-drawn and painted digitally by the artist herself. The Magical Ocean Adventure Collection is scheduled to release on 8 August 2017.
Irene Koh is known for creating sweet, adorable art that tells a story. Her art brings joy to young-at-heart ladies and helps them surround their loved ones with the happiness of heartwarming cuteness.
For years, Irene's art works are only available to collectors and business owners through private commissions. Now, for the first time, Irene is offering an entire line of wall art prints so that more art lovers can own a piece of her art at a relatively affordable price. The Magical Ocean Adventure Collection will be released under her new brand, Irene Koh Studio, and is expected to go live on 8 August 2017.
The Magical Ocean Adventure Collection will be exclusively sold on Irene's Etsy store (www.etsy.com/shop/IreneKohStudio) where the first run of her prints are likely to sell out by the end of the season.
The new creations depict adorable underwater characters in a dreamy whimsical style that will make young-at-heart mommies and their kids feel as though they are part of the fantastic ocean world.
Several designs feature some of the most well-loved underwater characters, such as mermaid, dolphin, narwhal and whale to capitalize on today's trends.
All the art works tell heartwarming stories of love, friendship and adventures that will warm the hearts of those with a childlike spirit. A few examples are: 
I Whale Always Love You - features a cute whale couple sharing a sweet moment under a beautiful rainbow.
Rock the World - illustrates the adventure of guitarist crab and drummer starfish as a rock band duo.
Unicorn of the Sea - depicts a baby narwhal with a golden tusk taking his first peek at the starry sky above.
Life is the Bubbles - showcases two colorful puffer fish in an unexpected hilarious situation.
You Lift Me Up - narrates an inspirational tale of wonderful friendship between a cute mermaid and a little star.
With the exception of a limited edition design, all art prints come in three popular sizes; namely, 5x7 inches, 8x10 inches and 11x14 inches, making it easy and convenient for framing.
Hand-signed and numbered at the back, the limited edition wall art comes with a Certificate of Authenticity and is limited to only 50 worldwide. The Magical Ocean Adventure Collection ranges in price from $17 to $120.
"I am excited to welcome new fans and art collectors to experience the magic and happiness in my upcoming collection. The delightful smile on the face of your loved ones when they see the art will leave you feeling warm and fuzzy inside," said Irene, artist and owner of Irene Koh Studio.
Source: Irene Koh Studio
Share:
---
Categories: Interiors and Decoration, Artists, Visual Arts
Tags: art, etsy, interiors and decoration, Irene Koh Studio, Magical Ocean Adventure, ocean art, Singaporean artist, wall art
---