IoT Startup MODE Joins Fujitsu ActivateNow Technology Summit in Silicon Valley
Press Release
•
Feb 21, 2023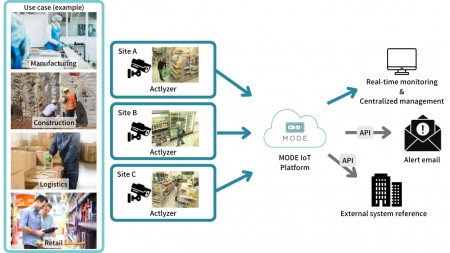 SAN MATEO, Calif., February 21, 2023 (Newswire.com) - MODE, Inc. ("MODE"), an IoT platform solutions provider, will join the Fujitsu ActivateNow Technology Summit in Silicon Valley, organized by Fujitsu Limited ("Fujitsu"). MODE will have an interactive demo, where attendees can come by and experience how its IoT platform solution is supporting Fujitsu's Actlyzer, a video-based artificial intelligence behavioral analysis technology. The solution is expected to benefit customers in a wide range of industries including industrial, distribution, construction, transportation, and security.
MODE anticipates future synergies with Fujitsu, including the possibility of joint customer demonstrations focused on AI video analysis.
Fujitsu is a participant in MODE's Artificial Intelligence Partner Program ("AI Partner Program") announced on November 10th, 2022. More details about the AI Partner Program can be found here.
About Actlyzer
Fujitsu's Actlyzer technology recognizes various human actions from images without preparing a large amount of training data. Pre-trained models that recognize approximately 100 types of basic actions, and behavior recognition technology that defines complex behaviors as rules for combinations of basic actions, making it possible to easily recognize complex human behaviors. More information about Actlyzer can be found here.
Case Study: Business process improvement for the manufacturing industry
Changes in consumer behavior have led to shorter product life cycles and faster changes in demand trends, and production is increasingly personalized to the needs of the individuals. This has created a need for flexible production systems which can respond to changes in demand at the production site. Consequently, assembly work performed by human workers is subject to variations in work quality and productivity depending on the level of experience and type of product, making it difficult to optimize personnel planning in response to changes in demand.
The solution provided by Actlyzer and MODE's IoT platform measures work hours for each process from video data. By visualizing the analyzed data, it is possible to optimize personnel planning based on changes in demand for each type of product. Detected data is automatically collected and stored in MODE's IoT platform. Measurement of work time per process unit enables real-time progress management and early response to delays. In addition, by analyzing video data from multiple locations and centrally managing it in the cloud, and analyzing the entire manufacturing site, it is possible to improve the quality of operations and increase productivity.
About MODE
MODE is a startup from Silicon Valley that provides IoT solutions to accelerate on-site digital transformation by packaging IoT technologies into a cloud platform which anyone can use easily. Our goal is to spread the use of on-site data in various industries, revolutionize business, and realize a community that is one step ahead of the rest. For more information, visit www.tinkermode.com or email info@tinkermode.com.
Source: MODE Inc.
Related Media