InvisiArmor Medical and Sport Products Are Finalists for 2017 Future Textiles Award
Press Release
•
updated: May 8, 2017
World Textile Information Network Winners will be announced 10 May 2017 in Frankfurt, Germany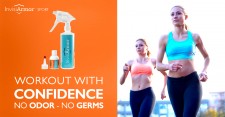 CHARLOTTE, North Carolina, May 8, 2017 (Newswire.com) - ​dReiniger LLC, developer of formulated additives that create renewable, long-lasting antimicrobial treatments for textiles, has been selected as a finalist for the 2017 Future Textiles Award in two categories: Medical and Sport. The World Textile Information Network (WTIN) will recognize winners for their contributions to the textile industry during a ceremony at the Westin Grand Frankfurt.
"It is a tremendous honor to be recognized by an international panel of industry experts who find value in our unique products," said Jeff Robinson, CEO of dReiniger LLC. "WTIN is at the center of worldwide textile trends and innovation, and we are greatly honored to be among this year's chosen textile innovators. We have something valuable to offer families and healthcare providers."
"The great news is people can now make any of their clothes, gear, and shoes antimicrobial and have 24/7 protection against both germs and odor."

Jeffrey Robinson, CEO
Most clothes are not antimicrobial. Infectious germs can live for weeks on clothing, increasing the risk of contaminating the wearer or others. "The great news is, anyone can now make their clothes antimicrobial and have 24/7 protection against both germs and odor," continued Robinson. "Germs are everywhere, but they no longer have to be on your clothes, gear, or in shoes. And, although each treatment lasts through at least 20 launderings, wear tests have demonstrated that athletes can work out more than a dozen times without laundering (one Marine worked out 24 times before laundering), and still remain odor-free!"
InvisiArmor MEDICAL treatment
The patented InvisiArmor® Medical Textile Activator, combined with widely available 3% hydrogen peroxide, creates Residual Hydrogen Peroxide™ (RHP), a breakthrough technology that prolongs the antimicrobial power of hydrogen peroxide on textiles. This renewable treatment is ideal for lab coats, scrubs, and other clothing worn by healthcare workers, and can easily and safely be applied at home. The treatment lasts for more than 20 launderings and has demonstrated extremely high efficacy in laboratory tests.
InvisiArmor SPORT treatment
InvisiArmor® Sport Lasting De-Stink Treatment, when mixed at home with 3% hydrogen peroxide and sprayed on textiles such as athletic clothes, gear, or shoes, not only kills germs, but also captures odor molecules and provides a long-lasting scent. Treatments last for more than 20 launderings, but treated items can be worn many times without any stink before laundering, which helps prolong the life of garments. This formulation, which combines residual kill, residual capture, and residual scent technologies, is available directly to consumers, to give them more confidence every time they break a sweat or find themselves in a germ-infested athletic environment.
For more information, please go to www.invisiarmor.com.
Media Contact:
Jeff Robinson - CEO
jeff@dreiniger.com
704.281.1577
ABOUT dReiniger LLC
dReiniger LLC researches, develops and sells breakthrough infection-prevention products that reduce the risk of cross-contamination from high-touch textiles and surfaces in healthcare, fitness and other work environments. Intensive science and research supports every technology, to assure antimicrobial efficacy and practical use.
Source: InvisiArmor
Related Media
Tags