Introducing Tibetan Children in Exile to Their Rights
Press Release
•
updated: Mar 6, 2018
Italian human rights group travels to India to provide young Tibetans with an understanding of their inalienable human rights.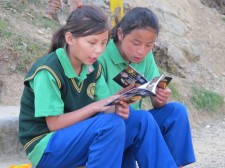 MYSORE, India, March 6, 2018 (Newswire.com) - To thousands of Tibetans living in exile in India, the human rights most people take for granted have been an elusive dream. More than 1,000 Tibetan children and youths flee their homeland each year in search of the freedom to practice their religion and culture.
In partnership with Youth for Human Rights International, the Association for Human Rights and Tolerance of Italy returned to Tibet last month to educate Tibetan youth in exile on their rights.
I consider human rights work or activism to be a kind of spiritual practice.

Tenzin Gyatso, The 14th Dalai Lama
The Association visited 14 schools and lamaseries that care for Tibetan children in exile in the South of India and distributed more than 16,000 copies of the booklet What Are Human Rights? along with copies of the Youth for Human Rights Educator Guide for teachers, to help them raise young people's awareness of the rights enshrined in the United Nations Universal Declaration of Human Rights.
The project began several years ago when the Italian human rights group learned of the work of humanitarian Jetsun Pima, sister of His Holiness the 14th Dalai Lama, who saw to the care of the Tibetan children in exile at the request of her brother. Ms. Pima served as president of the Tibetan Children's Village for 42 years from 1964 to 2006.
The Association soon met other leaders of the Tibetan diaspora including Yakar Gelek, president of the Mandala Center for the Cultural Preservation of Tibet, who helped them see to the translation of these materials into Tibetan. The translated materials were then presented to the Dalai Lama, who approved their implementation with the Tibetan community. He included a personal message to be printed in the front of the Tibetan What Are Human Rights? booklet.
"The Universal Declaration of Human Rights is a monumental document of the United Nations that establishes the fundamental equality and rights of all people on this planet, irrespective of their race, color, or creed, or whether they are believers or not. We should all show due respect to this declaration and abide by its provisions.
"I am grateful and happy that Associazione Diritti Umani e la Tolleranza Onlus has arranged to translate this important document into Tibetan and is now also publishing it in a book form to distribute amongst Tibetan youth.
"With prayers,
"Dalai Lama
"The Shakya Bikkshu who preaches"
Date: 10-2-14
Members of the Association first visited Tibet in 2014, when they introduced the Youth for Human Rights education initiative to monks of the Golden Temple, a Tibetan Buddhist monastery in India.
This year marks the 70th anniversary of the Universal Declaration of Human Rights. In his message 20 years ago on the Declaration's 50th anniversary, the Dalai Lama said, "I am encouraged by the widespread concern for violation of human rights whether in Tibet or any other part of the world. People everywhere have come to realize the great importance and value of human rights. Not only does it offer the prospect of relief to many suffering individuals, but it also is an indication of humanity's progress and development. I feel that concern for human rights violations and the effort to protect human rights represents a great service to people of both the present and future generations." He went on to say, "I consider human rights work or activism to be a kind of spiritual practice. By defending those people who are persecuted for their race, religion, ethnicity or ideology, you are actually contributing to guiding our human family to peace, justice and dignity."
The Church of Scientology and Scientologists support United for Human Rights and its program for young people, Youth for Human Rights, the world's largest nongovernmental human rights education campaign, reaching out in 195 countries in 27 languages and embraced by 2,300 activists, officials, groups and organizations. The initiative is inspired by humanitarian and Scientology Founder L. Ron Hubbard's conviction that "It is vital that all thinking men urge upon their governments sweeping reforms in the field of human rights."
For more information, visit the Scientology website.
Source: ScientologyNews.org
Related Media