Introducing the X1 Explorer Folding E-Bike
Beat the Traffic, Save the Planet - Personal Transport Redefined
Press Release
-
updated: Oct 31, 2017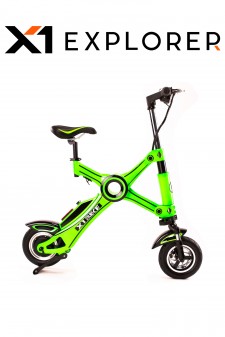 APOPKA, Fla. , October 31, 2017 (Newswire.com) - This week, X1 Technology will be launching its brand new 37-mile range, high tech electric bike, the X1 Explorer.  It would be tough to find a more sophisticated, long-range, eco-friendly bike that includes GPS tracking, remote key fob start and an anti-theft alarm at a more affordable price.  It's compact, portable and folds to the size of a golf bag in a split second. 
The X1 Explorer goes anywhere, ride it to the train station or bus stop, fold it and take it onto any public transport or in the car, then complete the trip in style and comfort.  With speeds up to 19 mph, bypass traffic and never worry about gas or parking.  It's easy to take a shopping trip to the mall, ride to an office meeting, have lunch downtown, or get around campus between classes.  Take the X1 Explorer on vacation, on the RV or boat, camping or road trips, and never call a taxi or rent a car again.  Use it in emergencies and to cover the last mile anywhere!  Explorer has limitless uses and is incredibly advantageous for today's evolving lifestyle.  As a zero-emission, environmentally friendly eBike, it's finally nice to give back to nature without sacrificing convenience, and all for less than $1,000.
Founding partner, John Simcox, has this to say, "Here at X1 Technology, we are passionate about bringing green technologies to life.  Launching the X1 Explorer is our biggest endeavor to date.  We are very excited to introduce our e-bike and we believe the X1 Explorer is more than just a bike; it's a change in lifestyle that will save you time, save you money and help save our planet."
The Kickstarter campaign is launching soon and published articles or feedback will be linked to the product launch page.  Looking for specs?  The X1 Explorer has plenty. See the below photos for a full list of features.
"I have been waiting for a compact, affordable, electric commuter bike to hit the market.  I will be standing in line for the release of the X1 Explorer." – Gail B. of Manhattan, NY
About Us:  X1 Technology, formed by John Simcox and Brett Vogeler in 2016, was created to bring new, innovative, eco-friendly ideas from concept into reality.
Media Contact: For more information, go to x1bike.com, contact Connie Dean, X1 Bike Project Manager, at 918-467-0235 or via email at connie@x1bike.com.
Source: X1 Technology
---
Categories: High Technology, Environmentalism, Local News
Tags: best electric bike, cheap electric bike, e bike, electric assist bike, electric bicycle, electric bicycles, electric bike wheel, electric bikes for sale, electric folding bike, folding electric bike, hybrid bicycles
---