Introducing Temp Windows®; the First and Only Temporary Window and Door System for Construction
Press Release
•
Jan 31, 2023
Tested in 70+ MPH wind and extreme weather conditions, Temp Windows' (patent pending) system will allow builders to quickly weatherproof their construction project while awaiting window and door install.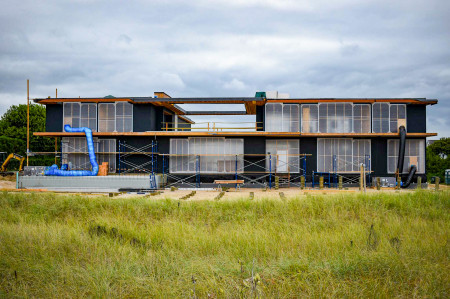 WESTHAMPTON BEACH, N.Y., January 31, 2023 (Newswire.com) - Temp Windows has created the first temporary window and door system allowing construction professionals and homeowners to weatherproof their project before window and door install. Builders won't have to push off starting interior work on either new construction or renovations, because the project isn't watertight. Temp Windows will benefit a construction project in the following ways:
Immediately prevent water damage to interior work.
Prevent mold spores on interior framing.
Keep your project on schedule and looking professional.
Maintain an optimal climate for the work force and lumber moisture content.
Production builders, they're tough and re-usable.
Have your project watertight within days of purchase.
The Temp Windows system was recently field tested at an ocean front project with exposure to 70+ MPH wind, extreme rain, heat, and cold. The project remained dry through severe weather conditions and the general contractor was able to insulate walls, climate control the building, and start interior work at an earlier stage. This saved 6 months on the construction schedule and money from water damage repairs and mold remediation. The lumber dried to the optimal moisture content long before applying finishes, helping to prevent material movement, squeaking floors, and cracking trim and paint.
The system is comprised of 5 components, assembled in the field by a carpenter, laborer, or do-it-yourself-er. When outfitting a full project, material cost for a 4'x8' Temp Window is less than $50. All items are in stock and delivered to your job site.
Temporary Window Flange (8' 10") - $12.25 per piece
6 Mil Reinforced Plastic Sheeting - from $107.99 per roll
Temp Windows Caulk - $9.99 per tube
Flashing Tape - from $26.99 per roll
Wrap Caps - from $13.99 per pack
To assemble; build wood frames from 1x4" or similar material for each of the openings needing protection. Wrap the frames with 6 Mil Plastic Sheeting and fasten with a staple hammer. Gently heat the 6 Mil Plastic with a shrink wrap or heat gun and the material will pull tight as it cools. Apply Temp Windows Caulk to the plastic, over the frame. Then cut the Temporary Window Flange material to size and fasten to the frame with a staple gun. Install Wrap Caps at the frame braces to keep the plastic tight. You're ready for install; place the temporary window inside the opening, fasten, and apply Flashing Tape to the head flange - your project is watertight.
Temp Windows is helping builders forge ahead in spite of inclement weather and unprecedented window and door delays. Visit TempWindows.com for product spec sheets, how to videos, and to order.
Source: Temp Windows
Related Media