Introducing Stockholm to the Unconditional Help of the Scientology Volunteer Minister
Press Release
•
updated: Oct 3, 2018
European Continental Volunteer Minister Cavalcade sets up its bright yellow pavilion on Medborgarplatsen Square following its tradition of reaching out with one-on-one help to people across Europe.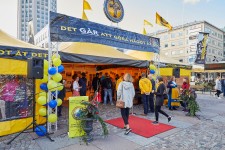 STOCKHOLM, October 3, 2018 (Newswire.com) - Music marked the opening of the Scientology Volunteer Ministers European Continental Cavalcade on Medborgarplatsen Square, one of the largest squares in Stockholm, with passersby joining in the dancing.
Although Stockholm is ranked as one of the happiest countries in the world, there, as everywhere, people run into problems and upsets. And the Scientology Volunteer Ministers reach out there as they do in cities around the world with practical tools to help them resolve these issues.
Inside the tent, the volunteers offer 19 free courses in everything from improving communication skills and the raising of children to tools for setting and accomplishing goals, overcoming illiteracy and helping salvage a friend or family member from drug or alcohol addiction.
The courses are based on The Scientology Handbook, compiled from the works of Scientology founder L. Ron Hubbard at his direction when he started the program in the mid-1970s. These courses are also all available online through the Scientology and Volunteer Ministers websites and are offered free of charge to anyone wishing to improve their ability to handle the situations in their lives.
One of the most popular features at the tent was Scientology assists — techniques developed by Mr. Hubbard to relieve aches and pains and speed healing by addressing the spiritual factors in illness and injuries. "It was very nice and refreshing," said one man after receiving an assist. "I feel better. Thank you," said another." "This was really interesting and it's important to know there's a technique to help you relax and deal with stress." "What a great idea to have a course to help you help other people and friends," said yet another. "Thanks for the wonderful opportunity to be introduced to this by this team."
The Church of Scientology Volunteer Minister program is a religious social service created in the mid-1970s by L. Ron Hubbard. Anyone of any culture or creed may train as a Volunteer Minister and use these tools to help their families and communities. The church provides free online training on the Volunteer Ministers website.
In creating the Volunteer Ministers program, L. Ron Hubbard wrote, "If one does not like the crime, cruelty, injustice and violence of this society, he can do something about it. He can become a Volunteer Minister and help civilize it, bring it conscience and kindness and love and freedom from travail by instilling into it trust, decency, honesty and tolerance."
Source: Scientologynews.org
Related Media