Introducing Glen Royale in Panchgani
A New Chapter of Luxury Living in India
Press Release
-
updated: Oct 23, 2018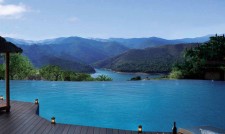 DUBAI, United Arab Emirates, October 23, 2018 (Newswire.com) - India's hill stations have always been among its most popular vacation spots, offering a tranquil retreat from the busy city streets and a haven where you can enjoy the best that nature has to offer. Panchgani is perhaps the most well-known of the hill stations, welcoming in tourists from abroad and from other parts of the country throughout the year. Now the famous resort town is on its way to becoming one of India's most celebrated residential destinations thanks to the ultra-exclusive Glen Royale.
Glen Royale promises to be one of India's most exclusive addresses. An architectural marvel offering world-class design, resulting in contemporary living spaces that incorporate the natural beauty of the surrounding area into the design aesthetic.
Warm earthy colour palettes, meticulously laid brickwork and clean-cut angular lines craft the perfect blend of rural comfort and modern urban sophistication, while the use of floor-to-ceiling glass paneling brings the most breathtaking views right into your living room. Glen Royale is a unique neighbourhood built along the side of a hill with the homes cascading downward into the valley. Each villa will be fully furnished, featuring premium finishes, carefully handpicked furnishings and a full suite of high-end kitchen appliances. Some of the villas will even have rooftop terraces designed to make you feel as if you're sitting on the hillside itself.
Marketed exclusively by LuxuryProperty.com, Glen Royale offers owners and residents a permanent 7-star vacation, where resort-style living will be a part of your everyday. Your journey begins with a private helicopter ride from Mumbai or Pune Airport into the community, or a leisurely drive through magnificent mountain passes. The community itself is designed to be completely car-free, with access to an underground parking garage at the main gate. You can travel within the community on foot or via the unique funicular system that takes you up and down the hill while letting you enjoy the gorgeous vistas that Panchgani is famous for.
Facilities and amenities are truly world class with a dedicated concierge service and true luxury lifestyle amenities which include a residents' clubhouse, exquisite spa, fitness center and an infinity pool deck that enjoys stunning views of the valley below.
There will also be much to explore, including butterfly gardens, nature trails, a bird watching zone, and bespoke viewing deck and gazebos.
LuxuryProperty.com is privileged to be the exclusive marketing partner for this project. The firm's CEO Jason Hayes was keen to be involved with it from the outset. "I love working on unique Luxury projects, and this truly is Luxury Personified. A fine mix of architectural merit, world-class interior design, excellent facilities, and 7-star service promises to make Glen Royale a much sought after address."
About LuxuryProperty.com:
LuxuryProperty.com is a digital destination marketing the world's finest homes connecting international clients to the most exclusive properties across the globe.
LuxuryProperty.com lists an exclusive portfolio of over $6 billion of on- and off-market properties across the globe. As a brokerage, LuxuryProperty.com specializes in delivering exceptional private client advisory services with an emphasis on professionalism and discretion. The company also offers a bespoke real estate search and acquisition service through its exclusive Private Client Office.
LuxuryProperty.com is dedicated to curating and showcasing the very best in luxury living.
For more information: www.luxuryproperty.com 
For more information or details, please contact:
Arpan Ghosh, PR Officer - LuxuryProperty.com
T: +971 4 240 6211 | M: +971 52 713 4803
E: arpan@luxuryproperty.com  
Source: LuxuryProperty.com
Share:
---
Categories: Media and News
Tags: exclusive, India, Indian, Luxury, luxury real estate, Mumbai, Panchgani, Pune, Resort, Vacation Home, villas, World Class
---