Intraway Wins Big at TM Forum 'DTW 2023 – Ignite' With Two Catalyst Project Awards
Press Release
•
Oct 2, 2023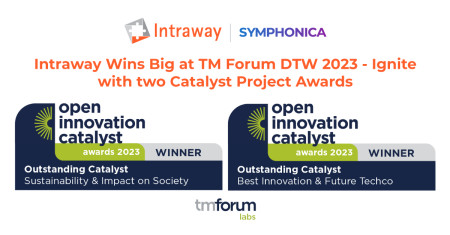 MIAMI, October 2, 2023 (Newswire.com) - Intraway, the leader in no-code orchestration and provisioning OSS, stands out as the only vendor to win two catalysts during Digital Transformation World 2023 – Ignite. Out of over 50 exceptional innovations presented at the event, Intraway achieved remarkable recognition by securing top honors in both categories in which it participated.
Intent-Driven Autonomous Networks – Phase III
Winner in the Outstanding Catalyst - Best Innovation & Future Techco Category - Finalist in the Outstanding Catalyst - Use of TM Forum Assets and Outstanding Catalyst - Excellence in the application of AI & Automation Categories.
Intraway's triumph in this category marks a significant milestone in the evolution of IDAN. The company's commitment to creating a comprehensive view of intent APIs has unlocked immense potential for business benefits within autonomous networks. The collaboration included participation from AIS, CAITC, China Mobile, China Unicorn, Ericsson, Huawei, Infosys, TIM, Sparkle, Telenor Group, and Università Degli Studi Di Milano.
Intelligent Edge For Sustainable Agriculture – Phase II
Winner in the Outstanding Catalyst - Sustainability & Impact on Society Category and Finalist in the Outstanding Catalyst - Best Innovation & Future Techco and Outstanding Catalyst - Excellence in the application of AI & Automation Categories.
Intraway's second award-winning project focuses on sustainable agriculture, presenting a scalable blueprint and reference implementation that efficiently delivers IoT, 5G network slicing, MEC orchestration, and sustainability services tailored to specific precision operations. This initiative encompasses smart weeding, smart irrigation, and animal health management. Intraway collaborated with industry giants such as AWS, ETIYA, EPAM, NTT, OneCup AI, RedHat, Telus, VantiQ, and Verizon to bring this innovative project to life.
"We are thrilled to receive this recognition for our work in Intent-driven Autonomous Networks and Sustainable Agriculture," said Diego Ambühl, Product Portfolio Director at Intraway. "These awards reflect our commitment to being at the forefront of Digital Transformation, and we are honored to have engaged with industry leaders and TM Forum to achieve these remarkable milestones. These catalyst projects testify to our commitment to innovation and our determination to provide cutting-edge solutions for our clients. As part of this commitment, Intraway has been one of the 31 Companies that signed the Autonomous Networks Manifesto to help our customers move forward into the Network Automation initiatives."
Intraway also extends heartfelt gratitude to its dedicated team members whose expertise and dedication made these achievements possible.
For inquiries and interviews regarding Intraway's award-winning projects, please contact our marketing department at marketing@intraway.com.
About Intraway
With over 40 million subscribers successfully served in more than 20 countries over three continents, Intraway specializes in driving fixed-line and wireless operators' Digital Transformation projects with a 100% success rate.
Symphonica, Intraway's Business Process and Service Orchestration platform, is a no-code, cloud-native, telco-grade orchestration and service activation platform for automating the entire life cycle of services orchestrated across multiple networks and technology domains.
Source: Intraway