InterTech Gains New Plant Engineering Competencies - Expands Business and Markets
Press Release
•
Nov 1, 2021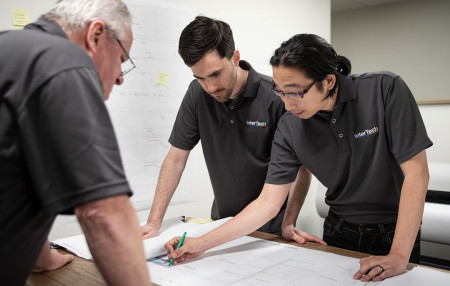 SACRAMENTO, Calif., November 1, 2021 (Newswire.com) - InterTech (ITL) monitors their clients' needs and dynamically reacts to changes. ITL has the expertise needed to ensure clients can meet their expectations in the competitive marketplace.
During 2020, the year of COVID-19, ITL's systems consistently accomplished project goals and continued to run reliably. This underscores its strength in engineering and technical skills.
Over the past year, ITL has invested in people, technologies and products, with a focus on safety. ITL continues to expand, drawing on a broad range of internal core competencies to assist clients with critical services and products.
"We bring our extensive knowledge, understanding and experience to complex problems and solve them. Then, when our clients ask us to do something else, they worry less. Every time we repeat that, they worry less. We become an extension of their engineering team. We want to become a valuable asset for our clients." - John Bailey, InterTech, PE, PMP
Recent Successes:
ITL designed and executed several temperature control projects related to production and warehouse facilities.

ITL provided temporary cooling capacity with over 2,000 refrigeration tons allowing production facilities to operate the entire processing operation during hot months. With onboard core competencies, ITL was able to execute this project with only one-month notice.

ITL continued designing large scale cooling tower systems and other utility systems. These systems were placed online quickly and delivered the expected results.

ITL completed the analysis work of another outside engineering firm. Significant design gaps were found in a steam system expansion project.

ITL engineers identified designs flaws that would have left a processing facility short of the actual required cooling tonnage. They avoided spending millions to upgrade a system that couldn't function as needed.

lTL completed several pasteurizer (processor) projects covering product upgrades and line speed changes.

ITL designed and installed food and beverage packaging lines and processes, including blow fill lines with support utilities.
Recent Accomplishments:
OSHA 30 TRAINING
All west coast office staff members completed 30 hours of OSHA safety training.
CAD DESIGN
ITL expanded the west coast engineering staff adding designers and CAD personnel - and doubling the Autodesk Plant 3D seats.
STRENGTHENED ENGINEERING DISCIPLINES
ITL staff expansion also included increasing structural and electrical power engineering resources.
CERTIFICATIONS AND TRAINING
ITL increased the number of certified project manager professionals (PMP), licensed engineers (PE) and Engineering certified (FE) staff members, ensuring that every project has access to well-trained engineers and senior-level resources.
About InterTech
For over 35 years InterTech has provided clients value by performing plant engineering services with integrity, skill, and efficiency. We're involved in every aspect of production. Our broad experience can inform your decisions and avoid costly changes.
info@inter-techltd.com
Source: InterTech