International Online Platform Booking Health Provides Opportunity to Choose Medical Treatment in Germany, Switzerland and Austria
Press Release
•
updated: Feb 21, 2017
Germany is a world leader in their healthcare system and has seen growing rate of medical tourism with more people across the globe seeking medical treatments in the country.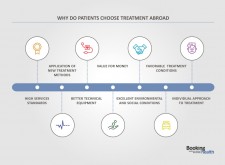 Bonn, Germany, February 21, 2017 (Newswire.com) - Booking Health, founded in 2011, helps connect clients from around the globe with the most suitable healthcare abroad while offering a selection of more than 250 medical clinics in Austria, Germany, and Switzerland and more than 70,000 medical care programs. Besides treatment, diagnostic and rehabilitation, Booking Health also offers second opinion and all additional services related to medical tourism.
A 2015 Forbes article, noted that medical tourism generated between $60 to $70 billion dollars, and within the next five years, it is likely that those seeking healthcare abroad will generate twice the amount of revenue. The article further defines that healthcare tourism is board in definition and goes beyond just medical treatments to also include preventive and rehabilitative care including wellness initiatives.
Travelers from Eastern Europe, the United Kingdom, the United States, and Arab Nations are frequently choosing to travel to Germany to seek medical treatments because of the country's high-quality medical care, advanced technologies, and low wait times. According to the World Health Organization, Germany has an average of 380 physicians per 100,000 people beating even the United States in comparison.
The country also has strict standards for education and training for medical staff, and German hospitals are subject to ongoing quality assessments from the government. Many seeking medical care in Germany seek out the country's expertise in neurosurgery, orthopedic surgery, pediatrics, cancer treatment, rehabilitation, and more.
"Through Booking Health, clients can find the best clinics and medical treatments in Germany and are provided a description of the treatment, duration of stay, and total cost," says Elena Sergeeva, CEO of Booking Health. "Because we have worked to secure direct contracts with medical institutions, Booking Health guarantees better prices on all medical care programs, providing our clients lower prices by 60 to 70 percent."
All prices for medical programs listed on the Booking Health website are the final price. In case of any complications, the price of the medical care program will not change. All extra costs will be covered by the German medical insurance from Booking Health. To learn more about medical tourism in Germany and for a list of clinics and medical treatments, visit BookingHealth.com.
About Booking Health
Booking Health is the largest and the most transparent medical tourism service in the world. The company's website presents its clients more than 250 clinics in Austria, Germany, Switzerland and more than 70,000 medical care programs.
Contact Information
Booking Health GmbH
​Siegfriedstraße 28
53179 Bonn, Germany
Tel.: +49(0)228-972-723-20
Fax: +49(0)228-972-723-1320
E-Mail: press@bookinghealth.com
Amtsgericht Bonn, HRB 21122, USt-IdNr.: DE298835293
Source: Booking Health
Related Media