International Folk Art Market Breaks Organizational Records at Railyard Park
Press Release
•
Jul 18, 2023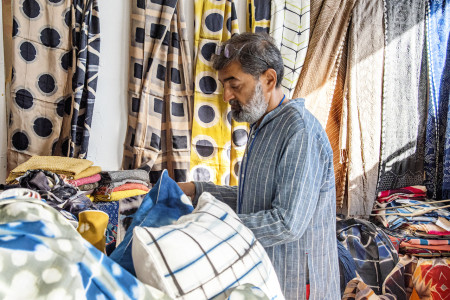 SANTA FE, N.M., July 18, 2023 (Newswire.com) - The International Folk Art Market (IFAM) welcomed 168 artists from 52 countries, including 39 first-time participants and the first-ever Native Hawaiian to be represented. With roughly 18,000 guests in attendance, the four-day event generated an estimated $3.37 million in art sales - setting a new all-time sales record. Average artist sales totaled approximately $21,339 per booth, breaking another organizational record. A total of 29,989 pieces of art were sold. Approximately 80% of guests were first-time attendees.
For the first time in the organization's 19-year history, the International Folk Art Market was held in Railyard Park - a location that is undeniably central to so much of downtown Santa Fe. As an organization prioritizing accessibility and sustainability, IFAM was proud to hear about the many ways guests traveled to Market "lightly," utilizing public transportation, the Rail Runner, the Santa Fe Rail-Trail, and public walkways. The feedback on the Market's new location continues to be overwhelmingly positive from artists, guests, and volunteers, all underscoring the spaciousness and ease of mobility. Utilizing their new location, this year's Market offered partnered special events including a Haunted Yōkai Train Ride with Sky Railway, performances from SUPER VERZA, Grupo Fantasma, and Vivalda Ndula at the Railyard Water Tower, and a special Night Market after-party at Optunia Cafe. Beginning Thursday, July 6, and running through Sunday, July 9, the Market schedule included over 20 performances and artist demonstrations, and six lectures as part of the IFAM Lecture Series: Identity is Handmade.
International Folk Art Market CEO, Melissa Mann, after an incredibly successful 2023 market with record sales numbers, has decided to move on from the organization. Melissa has been instrumental in leading the International Folk Art Market through COVID and the market's move from Museum Hill to its new location at the Santa Fe Railyard Park. The IFAM board thanks Melissa for her years of dedication to the organization and wishes her the very best in her next endeavor. Joni Parman is now interim CEO and the board of directors will conduct an executive search in the next few months.
Initially founded in 2004, the International Folk Art Market is gearing up for their 20th anniversary next year. IFAM will celebrate the handmade, perseverance of cultural heritage, and the organization's longevity, July 11-14, 2024.
About:
The International Folk Art Market Santa Fe is a 501(c)(3) with the mission to create economic opportunities for and with folk artists worldwide who celebrate and preserve folk art traditions. The International Folk Art Market envisions a world that values the dignity and humanity of the handmade, honors timeless cultural traditions, and supports the work of folk artists serving as entrepreneurs and catalysts for positive social change.
Source: International Folk Art Market