International Fashion Brand Pia Gladys Perey Launches Chic, Affordable Bridesmaid Collection PIA by PIA GLADYS PEREY
Press Release
-
updated: May 10, 2019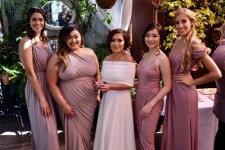 LOS ANGELES, May 10, 2019 (Newswire.com) - International fashion brand Pia Gladys Perey launched a chic, affordable Bridesmaid Collection in an exclusive showcase held in Le Jardin, in Beverly Hills' Sofitel Hotel. The line, Pia by Pia Gladys Perey, is part of Perey's globally renowned Shape Campaign, with designs Perey expressly creates to celebrate women of every shape and size.
It was white lace, promises and yards of style at My Best Friend's Wedding held at Le Jardin in Beverly Hills' posh, Sofitel Hotel. The bridal shower-themed soirée saw the premier presentation of Pia by Pia Gladys Perey, the quintessential fashion brand for today's modern woman, and made instant fans of the stylistas in the party mix. The creative director and CEO of the eponymous clothing brand proudly shares, "Events such as these are incredibly special for me - they are intimate and inspiring experiences that allow me to connect with new friends and champions of the brand. These are the faces of PGP. Our timeless designs and quality are made to celebrate every woman's beauty."
Indeed, brides and brides-to-be, lovebirds and gal pals had the sweetest time enjoying the precious treats from the partners and friends of the event. Aside from the beauty booths and flower kiosks, there were chocolates and accessories, bites and bubbles for all the guests to enjoy. Ultimately, the highlight of the bridal bash was Pia Gladys Perey's unveiling of her new accessible and affordable offerings of dresses in her signature silhouette and style.
True to her philosophy of championing women and diversity, models of different ages, sizes, shapes, color and backgrounds sashayed down an alfresco runway that had a background of lush greenery and bright flowers. Guests included the likes Hollywood star Anna Perez de Tagle, model Lucia Gomez, skincare expert Olivia Quido and actor Dan Babic. Everyone in attendance was in for a stylishly breathtaking surprise as dress after dress, perfect for today's modern bridesmaid and bridal party guest, were presented in a lovely fashion show. Pia by Pia Gladys Perey's trademark of soft and feminine shapes rendered in refreshing and classic colors and modern yet timeless cuts all flowed and floated elegantly down the garden runway to the delight of onlookers.  
Pia, herself an empowered woman, is of the belief that the modern bridesmaid is smart and style-savvy. "She loves the comfort and the fact that the dresses she purchases are timeless." She adds, "Always keep in mind that fashion doesn't have to be uncomfortable and expensive." True enough, Hollywood-style rave reviews were in even before the last dress left the catwalk. "They all loved the line and the colors that we offer." And to fully embrace its hold on this fashion category, the tawny and talented fashion designer intimates that she can't wait to launch her bridal line this June.
Pia by Pia Gladys Perey represents the truly timeless and versatile style choice of the contemporary woman as the brand and designer takes the bridal aisle by storm but also goes beyond it. My Best Friend's Wedding, with its romantic ambiance and the chic crowd, was the best style start for this brand meant for women, made for women. Pia shares that what makes LA such a special place for her women's label is the fact that "my dresses can be dressed up for red carpet events and are elegant enough for weddings­; boho enough for the beach and can be rolled up and popped into your weekend bag for an impetuous get-away. How can anything be this perfect?"
About Pia Gladys Perey:
Pia Gladys Perey (PGP) is the go-to label for glamorous pieces with a romantic flair. Each dress embodies the elegance of the modern woman through its sensual and delicately crafted folds and dramatic drapes. With PGP, curves of every kind are celebrated.
Launched in 2007 at IMG's Mercedes-Benz Australian Fashion Week, the brand continues to soar in multi-label stores and specialty boutiques situated in fashion hotspots like London, New York, Melbourne, Sydney, Singapore, Ireland, United Arab Emirates and many more.  
The label graced the runways of Paris, New York, Miami, Los Angeles and Australia, earning rave media reviews.  
It has been seen on the red carpet of the Golden Globes, Grammys, The Emmys, American Music Awards, Cannes Film Festival, Critics' Choice Awards and more. PGP is favored by celebrities like Angelina Jolie, Gabrielle Union, Demi Lovato, Petra Nemcova, Justina Machado, to name a few.
PGP has also been featured in Vogue Italia, Cosmo Bride, Harper's Bazaar, Tatler, The Sunday Telegraph, People Asia, Beautiful Bride, Fashion 360, W Magazine and more. Vogue UK cited PGP as "a few collections away from being a global brand."
https://www.piagladysperey.com/about-us/
About the Designer:
The designer behind the self-named brand, Pia Gladys Perey, is inspired by the strength and versatility of the woman. Raised by her grandparents in the country town of Tagaytay in the Philippines, she spent her childhood days watching her grandmother make patterns and sew dresses. At a very young age, she was exposed to fashion and style.
A mother of four, Pia has a degree in philosophy and political science but chose to pursue her love for fashion at the age of 20. She worked as an assistant designer and later on became a buyer and fashion merchandiser for brands like Levis, Speedo and Kashieca. In 2006, Pia moved to Australia to volunteer at Australian Fashion Week. Six months after, she launched her very first collection in the same show. Since then, Pia became a trailblazer in the international fashion scene.
Pia is now based in Los Angeles and recently launched a second line called PGP by Pia Gladys Perey. She sits as a board member of the ASEAN MSME Trade Coalition and the Single Moms Planet.
https://www.piagladysperey.com/about-us/
About Sofitel and Le Jardin by Sofitel:
Sofitel invites future newlyweds to cherish the moment as they celebrate their love and create magical memories to last a lifetime in the heart of Los Angeles, at the crossroads of West Hollywood and Beverly Hills. Sofitel Los Angeles at Beverly Hills is the perfect place to plan the dream day with a hint of Hollywood glamour and luxurious French flair. From our magnificent ballroom to our gorgeous blooming South of France-inspired outdoor garden and our sunny pool deck, we offer multiple indoor/outdoor combinations for beautiful ceremonies and receptions, always featuring the four-diamonds banquet and catering team servicing our guests with passion and excellence. Our outdoor colorful garden patio is also ideal for an elegant bridal shower or a friendly wedding brunch. For those looking for a more secluded dining experience, The Aviary, our outdoor private patio, is ideal for private cocktail parties or sit-down dinners for 20 to 50 guests. Its unique environment includes bird cages beautifully suspended overhead where guests can dine under the sky and enjoy cocktails with its own private bar.
Looking for the full package? Discover our Magnifique Weddings package, with open bar formulas, dance floor, helipad photoshoot for the newlyweds and more.
Whether it is with an intimate group or a larger crowd, get married the French way at Sofitel Los Angeles at Beverly Hills.
URL for more info: https://www.sofitel-los-angeles.com/meetings-events/
Source: Pia Gladys Perey
Share:
---
Categories: Celebrities
Tags: best bridesmaid, Bridesmaids Dresses, Pia Gladys Perey. Sofitel, Wedding designer, Wedding Dresses
---