Intercultural Dialogue in Dubai
Press Release
•
updated: Sep 10, 2020
The interchange of common cultural knowledge in the wake of the historical UAE-Israel deal.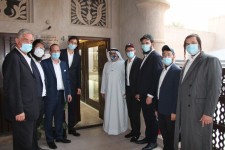 DUBAI, Arab Emirates, September 10, 2020 (Newswire.com) - The Abrahamic Business Circle organized a visit to the cultural museum in Dubai to commensurate with the Abrahamic Accord by fostering tolerance and interchange of intercultural dialogue.
H.E. Ahmed Obaid Al Mansoori, the founder of Crossroad of Civilizations Museum in Dubai, hosted on the 8th of September of this year a group of representatives of the Jewish Community and the founding members of The Abrahamic Business Circle. The Jewish group was led by the Rabbi of the Jewish Community of the UAE, R. Levi Duchman, while The Abrahamic Business Circle was represented by the Founder, Chairman Raphael Nagel, and the Co-Founder, Dr. Tillmann C. Lauk. H.E. Ahmed Obaid Al Mansoori exclusively showcased the history and culture of the UAE and hosted the intercultural dialogue at the museum.
During the visit, the group had the opportunity to capture His Excellency's profound knowledge of the history and cultural evolution of the UAE. Rich traditional culture and unique pieces of history were beautifully gathered in one place. Following the tour, there was an extensive exchange of common cultural knowledge that ended with a common prayer from all of the participants in all three major Abrahamic faith.
Together, everyone was praying accordingly to his own faith in unity—an unimaginable event with an overwhelming grip of emotions that proved Dubai is the capital of tolerance in the world.
###
About The Abrahamic Business Circle
The Abrahamic Business Circle ("The ABC") aims to present an innovative global interfaith entrepreneurial dialogue forum. Our organization wants to boost long-standing relationships among goodwill people of all faiths within a high-level business environment. Accordingly, multi-faith business leaders come together under an umbrella that is made of tolerance, cooperation and reliance of one to another. The ABC's initiatives will generate huge opportunities not only in culture but also in economic exchanges.
Contact:
Strawberry Fernandez
Executive Assistant
+971 54 445 1408
contact@theabrahamicbusinesscircle.com​
Source: Abrahamic Business Circle