Insurtech Leader Mylo Introduces 401(k) Solutions Through Fintech Leader Ubiquity Retirement + Savings
Press Release
•
Jun 6, 2023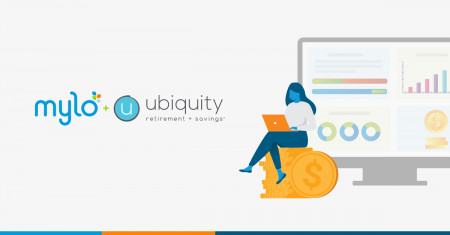 KANSAS CITY, Mo., June 6, 2023 (Newswire.com) - Insurtech leader Mylo has selected small business retirement plan pioneer Ubiquity Retirement + Savings® (Ubiquity) to provide an innovative suite of group and individual 401(k) products that will enhance Mylo's wide offering of small business insurance and benefits. Whether business owners shop online or with a licensed advisor, Mylo's insurance intelligence platform connects them with customized solutions from leading carriers.
As Mylo continues to add to its extensive product line, business owners will be able to consult a 401(k) expert at Ubiquity, review retirement savings options and find a 401(k) plan personalized to their savings needs through this new partnership. A 401(k) can provide significant tax benefits to owners and fulfill requirements their states may have to offer retirement plans. Ubiquity, a leading fintech company that leverages technology to create a transparent, flat-fee*, customizable savings experience, is the exclusive retirement plan provider offering these services to Mylo's customers.
"About half of all private sector workers do not have access to an employer-sponsored retirement savings plan," said Chad Parks, Founder and CEO of Ubiquity. "With this partnership, we are furthering our mission to empower all individuals to save for a secure financial future by making it easier for small businesses to access affordable plan options."
Ubiquity's Single(k) Plus®, Saver(k)®, Custom(k)® and Reserve(k)® plans will now be available to Mylo's customers.
Building on 50+ years of expertise, Mylo specializes in helping small business owners protect their growing companies through a wide range of business insurance products. In addition, Mylo has a dedicated group benefits team equipped with proprietary insurance technology that reduces quoting, plan selection and enrollment from weeks to hours. Benefits options from leading carriers include major medical, dental and vision, life, disability and more.
"We're excited to partner with industry leader Ubiquity to offer retirement benefits solutions and expertise," said David Embry, Mylo CEO. "Our insurance intelligence platform will easily integrate with Ubiquity's cloud-based technology to bring these innovative offerings to our customers."
About Mylo
Mylo is an insurtech leader with an insurance intelligence platform that seamlessly integrates into partner experiences to connect business owners and individuals with top-rated insurance products from multiple carriers, including business, auto, home, small group benefits, life and individual health. Backed by Group 1001, the global investor with a powerful commitment to technology-driven insurance transformation, Mylo delivers personalized coverage recommendations and ideal solutions online or over the phone with licensed agents. For more information, go to www.ChooseMylo.com.
About Ubiquity Retirement + Savings®
Since launching Ubiquity Retirement + Savings in 1999, the company's driving force has been to provide qualified retirement plans that meet the needs of small business owners. Our mission is to empower small businesses and their employees to create a more secure financial future by leveraging technology with affordable retirement solutions and world-class customer support. Ubiquity is a leading fintech company that is one of the first flat-fee-for-service small business plan providers in the nation. With our exclusive, best-in-class Paradigm RKS™ cloud-based platform that automates recordkeeping and plan management functions, we're able to deliver an easy-to-use experience and peace of mind with zero hidden fees. The company is headquartered in San Francisco with satellite offices from coast to coast. Ubiquity serves over 10,000 American small businesses and hundreds of thousands of savers. With over $3 billion in retirement assets, Ubiquity has clients in all 50 states, delivering a transparent, flat-fee, customizable savings experience. Our tenured team are retirement experts and future-you champions! Visit myubiquity.com to learn more.
*Flat fees are charged by Decimal, Inc. for recordkeeping and administrative services. Third-party service providers may assess asset-based fees to customers. Plan sponsors are advised to review all service agreements with providers (i.e., investment advisors, custodians, broker-dealers) to evaluate total plan costs.
Source: Mylo