Insurtech Koop Technologies Raises New Funding to Scale Distribution
Press Release
•
Jul 17, 2023
Insurtech Koop Technologies raised new funding from top-tier technology investors, led by Alley Robotics Ventures, to scale the distribution of its proprietary insurance products and risk-control tools for robotics and autonomous vehicle risks.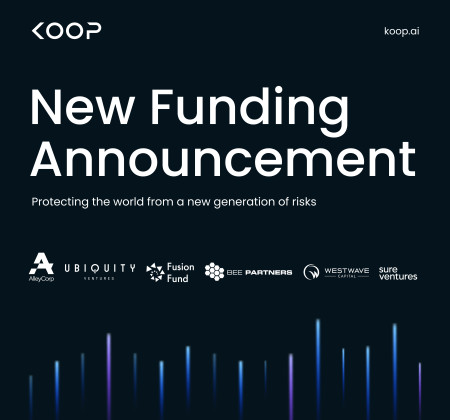 PITTSBURGH, July 17, 2023 (Newswire.com) - Koop Technologies ("Koop"), an insurance technology company focused on the robotics ecosystem, has announced new funding to scale the distribution of its flagship insurance program in partnership with Lloyd's of London and several world-class insurance carriers. Koop will use the new capital to promote its products across multiple distribution channels and invest in further product development. The round was led by Alley Robotics Ventures, a New York-based investor focused on transformative ventures in the field of robotics, with participation from Fusion Fund and existing investors Ubiquity Ventures, Bee Partners, WestWave Capital, and Sure Ventures.
"I'm delighted to welcome Alley Robotics Ventures to the Koop family. Despite challenging economic conditions, we found a strong partner that shares our vision for the future of financial protection services for robotics OEMs and service providers. It's a special time to build in robotics, and we are excited to have fresh capital to support our customers," said Sergey Litvinenko, co-founder and CEO. "Just over the last 12 months, we pioneered a Koop API autonomous vehicle integration, grew the book of business 3x across 14 robotics use cases, posted a top-percentile Loss Ratio across the whole portfolio, and gained a prestigious Coverholder status with world-renowned Lloyd's of London. I'm thrilled to achieve the next milestones with Alley Robotics Ventures," added Litvinenko.
Growth in automation technologies has significantly accelerated due to the mounting shortage and high cost of labor in the last few years. Mobile, stationary, industrial robotics, AGVs, and autonomous vehicles led the way in units deployed globally. The growth of the robotics industry has almost doubled in the last two years and is expected to reach a 25% CAGR from 2023 to 2030. However, the insurance industry is not catching up with robotics, as the concept of robotics liability is problematic for insurers who can't take advantage of robotics data. In turn, this causes problems for robotics developers and operators that go uninsured, have to self-insure or are stuck with extremely limited options. Meanwhile, the demand for automation is skyrocketing. The traditional insurance marketplace lacks the underwriting methodology and risk-control tools to take on robotics risks, which is where Koop Technologies differentiates itself.
"Koop equips the world of robotics with reliable coverage, pricing benefits, and risk-control tools. It's a comprehensive, end-to-end product that solves many pain points and minimizes liability risks in robotics," noted Litvinenko. "It's crucial for the robotics industry to instill trust in end-users to drive adoption. Naturally, insurance is the necessary layer of trust that robotics lacked until Koop came into the scene. As the robotics industry continues to experience massive adoption, and innovation across verticals, Koop will become an industry household name as companies and organizations look to understand and mitigate emerging risks," said Abe Murray, General Partner at Alley Robotics Ventures. "Koop has already shown tremendous traction and momentum within the insurance industry, and we are looking forward to their continued growth," added Murray.
About Koop Technologies
Koop Technologies is an insurance technology company focused on the robotics ecosystem. The company developed an underwriting platform that uses alternative data to perform risk evaluation for a wide range of robotics use cases, including autonomous vehicles. Koop Technologies is licensed in more than 30 U.S. states through its insurance subsidiary and partnered with some of the leading insurance carriers. To learn more about the company, please visit www.koop.ai.
About Alley Robotics Ventures
Alley Robotics Ventures is an early-stage robotics and automation fund. Alley Robotics launched its first $30 million fund in 2022, backed by Kevin Ryan of AlleyCorp and Eliot Horowitz of Viam Robotics. For more information, please visit www.arv.team.
Source: Koop Technologies