Insurtech Koop Technologies Announces Strategic Investment From Hyundai and Kia
Press Release
•
Oct 23, 2023
Pittsburgh, PA-based insurtech Koop Technologies announced strategic funding from Hyundai Motor Company and Kia Corporation, a leading global automotive OEM conglomerate, to focus on pioneering insurance and risk control technologies for autonomous vehicles and robotics.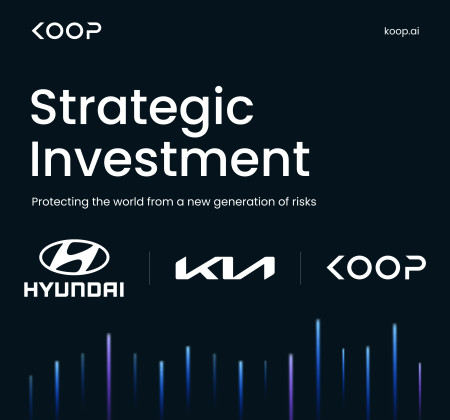 PITTSBURGH, October 23, 2023 (Newswire.com) - Koop Technologies ("Koop"), an insurance technology company focused on the robotics ecosystem, has announced a strategic investment from Hyundai Motor Company and Kia Corporation ("Hyundai and Kia") to boost product development and distribution capabilities for autonomous vehicles and robotics. As self-driving cars and next-generation robots enter the market, the robotics services ecosystem will dramatically expand. Insurance is essential for commercializing autonomous vehicles and robots, enabling a financial backbone and peace of mind for end-users. Koop plans to work with Hyundai and Kia on increasing the adoption of robotics-based products and services through proprietary risk evaluation and convenient delivery of new insurance coverages.
"I'm convinced that next-generation automotive OEMs will reinvent themselves to become robotics OEMs, and Hyundai and Kia are clearly trailblazing in that direction. This strategic investment will allow Koop to expand its engineering, product, and distribution capabilities and partner with Hyundai and Kia on building a whole new category of financial services for robotics, starting with insurance and risk management," said Sergey Litvinenko, Co-Founder & CEO of Koop. "The strategic investment in Koop reinforces Hyundai and Kia's holistic approach to commercializing robotics, where financial services, including insurance and risk management, are central to reliable deployments. We are happy to partner with Koop to bring new robotics products to market in the near future," said Dr. Yunseong Hwang, Vice President and Head of Open Innovation Execution Group at Hyundai Motor Group. "OEMs that integrate insurance services into its value chain can see significant revenue expansion and higher customer satisfaction in the long run," added Litvinenko.
In recent years, the rapid advancements in automation technologies have been driven by the escalating challenges of labor shortages and their associated costs. Leading the global deployment surge are mobile and stationary robotics, industrial robots, AGVs, and autonomous vehicles. The robotics sector has witnessed its growth rate nearly double over the past two years, with projections suggesting a 25% CAGR from 2023 to 2030. However, the insurance sector lags behind in adapting to robotics. The complexities around robotics liability present challenges to insurers, leaving them unable to utilize robotics data effectively. This lag creates hurdles for robotics developers and operators, who often find themselves either uninsured, self-insured, or with very constrained insurance options. This gap is precisely where Koop sets itself apart. Hyundai and Kia invested in autonomous vehicles, mobile robotics, and air mobility, all requiring financial protection for commercialization. The intersection of robotics, autonomous vehicles, and AI with financial services and risk management is where Koop and Hyundai and Kia plan to do further collaboration.
About Koop Technologies
Koop Technologies is an insurance technology company focused on the robotics ecosystem. The company developed an underwriting platform that uses alternative data to perform risk evaluation for a wide range of robotics use cases, including autonomous vehicles. Koop is licensed in more than 30 U.S. states through its insurance subsidiary and partnered with some of the leading insurance carriers. To date, Koop has raised $7M in venture funding from AlleyCorp, Ubiquity Ventures, Bee Partners, Hyundai Motor Company and Kia Corporation, and more. To learn more about the company, please visit www.koop.ai.
Source: Koop Technologies