Instawork Staffs Ballparks Across North America, Welcoming Fans to Baseball Season
Press Release
•
Mar 28, 2023
Flexible work app provides users opportunities to work their favorite sporting events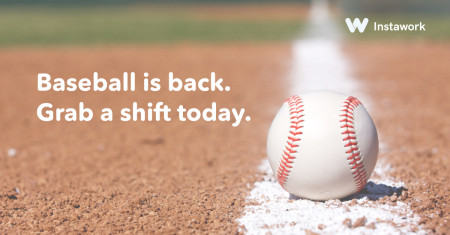 SAN FRANCISCO, March 28, 2023 (Newswire.com) - Instawork, the leading platform for connecting businesses with skilled hourly workers, announced today its staffing presence in professional baseball stadiums across the U.S. and Canada for the 2023 season.
As all 30 professional baseball teams take the field this week for Opening Day, Instawork Pros fill critical roles at more than half these stadiums, ensuring fans have a smooth customer experience and enjoy "America's favorite pastime." The most common shifts available for Instawork Pros at stadiums include concessions, retail, warehouse, and custodial and the average hourly pay rate nationally for Instawork Pro stadium shifts is currently more than $19 an hour.
The announcement also comes on the heels of Instawork's expanded staffing efforts to support 15 teams' spring training sessions this year in Florida and Arizona.
"Using Instawork is the perfect way to experience a summer at the ballpark while getting paid," said Kira Caban, Instawork's Head of Strategic Communications. "Instawork users create a shift schedule that allows them to cheer on their favorite team while leveraging the flexibility to best manage their personal needs and priorities."
Last year, Instawork's Economic Research Division saw demand for flexible labor rise over the course of the 2022 season, indicating that the demand for qualified, reliable hourly workers at stadiums will be high again.
Local hourly workers interested in signing up for shifts at their favorite ballpark can download the app by visiting www.instawork.com or by visiting their favorite app store.
Instawork Pros can create a profile, find a shift that matches their skills and interests, and start working in as little as 24 hours. Pros are also able to build their own work schedule, view total earnings before the shift, and have the opportunity to get paid instantly through Instapay.
Cities where Pros can use Instawork to select shifts at local stadiums include:
Boston, MA
Chicago, IL
Denver, CO
Los Angeles, CA
New York, NY
Oakland, CA
Pittsburgh, PA
Philadelphia, PA
Phoenix, AZ
San Diego, CA
San Francisco, CA
Seattle, WA
Tampa Bay, FL
Toronto, Canada
Businesses that rely on Instawork Pros range from sporting and concert venues to nationally-recognized hotels, restaurant groups, caterers, country clubs, and favorite local hot spots. Instawork is currently staffing hospitality, retail, and light-industrial businesses in more than 30 markets across the U.S. and Canada.
About Instawork
Founded in 2016, Instawork is the leading flexible work app for local, hourly professionals. Its digital marketplace connects thousands of businesses and more than four million workers, filling a critical role in local economies. Instawork has been featured on CBS News, the Wall Street Journal, The Washington Post, Associated Press, and more. In 2022, Instawork was ranked as one of the top 10% of the country's fastest-growing private companies by Inc. 5000 and was included in the Forbes Next Billion Dollar Startup list. Instawork was also named the 2022 ACE Award recipient for "Best Innovation," one of the "Best Business Apps" by Business Insider. Instawork helps businesses in the food & beverage, hospitality, and warehouse/logistics industries fill temporary and permanent job opportunities in more than 30 markets across the U.S. and Canada. Follow us on Twitter, Instagram, LinkedIn, and Facebook.
Source: Instawork