Instawork Raises $60M to Invest in Artificial Intelligence, Optimizing How Businesses Connect With Skilled Hourly Workers
Press Release
•
May 18, 2023
The flexible work platform revolutionizes how businesses find qualified and reliable workers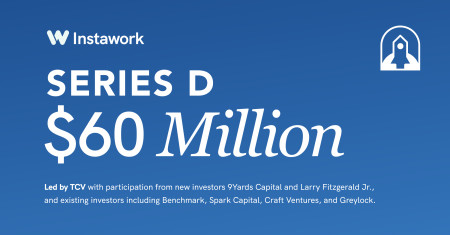 SAN FRANCISCO, May 18, 2023 (Newswire.com) - Instawork, the leading platform for connecting businesses with skilled hourly workers, announced today it has raised $60 million in a Series D funding round led by TCV, with participation from new investors 9Yards Capital, Larry Fitzgerald Jr., and existing investors including Benchmark, Spark Capital, Craft Ventures, and Greylock. Bringing total investment to $160 million, the funding round allows Instawork to accelerate investment in its AI-powered mobile app and platform that connects over 4 million skilled hourly workers with tens of thousands of businesses.
As recent studies have shown that more than one-quarter of hospitality businesses and one-third of light industrial businesses have had to forgo revenue due to lack of staff, Instawork has allowed businesses to easily manage their fluctuating staffing requirements while providing hourly workers the ability to choose when, where, and how they work the best.
This funding announcement follows Instawork's record growth amidst the country's ongoing economic challenges and uncertainty. While the broader tech community struggled, Instawork achieved 15x growth over the past two years and more than 2 million workers joined the app over the last year alone. Fueled by this growth, Instawork is helping staff distribution centers for some of the country's largest retailers as well as the majority of sports stadiums across the U.S. and Canada.
Instawork will invest in additional AI-driven capabilities to connect its partners with workers who both have the right skills to be successful and who reliably show up on-time. In addition, Instawork will be releasing new self-serve features, including user-friendly tools to post shifts in seconds, and custom, data-powered interfaces for easy workforce management.
"The current ways businesses access labor is fragmented, manual, and under penetrated by technology," said Gautam Gupta, TCV General Partner. "Similar to other category-defining technology companies with which TCV has partnered, we believe Instawork is dramatically changing its industry by using technology and data to connect businesses with the skilled workers they need."
Instawork will use the most recent funding round to provide the platform's more than 4 million workers access to unique training and certification opportunities to unlock work for users who are not eligible for certain shifts due to a current lack of certification or if they wish to highlight their certifications outside of the Instawork platform. In addition, a new Instawork debit card is available to qualifying users and services the unique needs of the flexible workforce, such as access to instant pay.
"Deploying artificial intelligence to a rich database of signals about the hourly labor force is revolutionizing how businesses connect with the skilled workers they need," said Sumir Meghani, Co-founder and CEO. "Instawork allows businesses to streamline their staffing process, reduce costs, and focus on their top priorities. We provide businesses with a flexible and reliable solution for finding skilled workers, while also empowering local workers to choose the work that best fits their skills and interests."
Instawork was ranked in the top 10% of the country's fastest-growing private companies by Inc. 5000 in 2022 and featured on Forbes' Next Billion Dollar Startup list. Instawork was also named the 2022 ACE Award recipient for "Best Innovation" and one of the "Best Business Apps" by Business Insider.
About Instawork
Founded in 2016, Instawork is the leading flexible work app for local, hourly workers. Its digital marketplace connects thousands of businesses and more than four million workers, filling a critical role in local economies. Instawork has been featured on CBS News, the Wall Street Journal, The Washington Post, Associated Press, and more. Instawork helps businesses in the food & beverage, hospitality, and warehouse/logistics industries fill temporary and permanent job opportunities in more than 30 markets across the U.S. and Canada. Follow us on Twitter, Instagram, LinkedIn, and Facebook.
About TCV
Founded in 1995, TCV has built a track record of partnering with private and public technology companies that have developed into global, category-defining players. The firm is laser-focused on empowering mission-driven teams to build and scale companies that delight consumers and businesses around the world. With $21 billion assets under management, TCV is a flexible, long-term-oriented partner that strives to be the hardest working, most-value-add investor for each of its portfolio partnerships. TCV has made over 350 investments and has supported 150 strategic transactions, including 79 public listings. Select partnerships include: Airbnb, Arize, Aviatrix, Brex, Built, Celonis, Clio, Dollar Shave Club, ETQ, Facebook, Legit Security, Miro, Netflix, Nubank, Relex, Revolut, Spotify, and Toast. TCV has offices in Menlo Park, New York, and London. Learn more at tcv.com.
Source: Instawork