InSitu Asia Sells Coworking Space 'District6' to Zero-Ten 'The Company'
Press Release
-
updated: Sep 19, 2018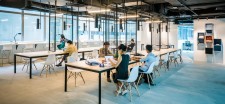 SINGAPORE, September 19, 2018 (Newswire.com) - InSitu Asia has sold co-working space District6 to Zero Ten, headquartered in Fukuoka City, Hakata-ku.
InSitu Asia Co-Founder Yuta Oka previously stated that reaching near full capacity at District 6 in a crowded co-working market such as Singapore left them with two options: reaching out to investors to raise funds to develop multiple co-working locations under the same brand or to make way for a larger co-working company to take over the space, build up the community further and provide more benefits to the community members through reciprocal use of multiple co-working spaces owned, branded and operated internationally.
Out of all the suitors for District6, Zero Ten stood out as an operator and brand due to its ability to facilitate business expansion and growth for start ups, mentioned Jork Bosselaar (Co-Founder InSitu Asia). The District6 operating team will continue to be led by General Manager Jethro Quek and his team to ensure seamless continuity of service levels, events and collaborations that are currently ongoing with multiple proptech partners and community members.
The creative workspace and community managed by Zero-Ten called "The Company" with 5 well-established spaces in Cebu, Honolulu, Bangkok and two in Japan is being rapidly developed for overseas expansion and as such, D6 will be rebranded as "The Company Singapore" on Nov. 12, 2018. Their Singapore branch will seek to offer members an outstanding and conducive workspace by collaborating with the community in Singapore that D6 has cultivated thus far, as well as the global networking and work sharing mechanism inspired by The Company.
Since its opening in June 2017, District6 has partnered with leading companies and startups from various industries in Singapore, and it has also developed a community based around proptech. For example, in August 2018 District6 partnered with Lendlease and JLL to launch a proptech accelerator program for selected real estate tech startups.
District 6 also initiated two other Proptech events in 2017 with one of them being Singapore's first ever Proptech Hackathon. Even after rebranding to "The Company Singapore," the space will continue supporting events and initiatives for startups and innovators working in similar industries. InSitu Asia will remain in the community as a tenant and will continue to contribute and foster the community around real estate and hotel tech companies. Additionally, Kurasu will continue to be an integral part of the space, providing specialty coffee to the space's community members and public alike.
■The Company Singapore
Location: ODEON TOWERS #02-01 331 North Bridge Road, Singapore 188720
Re-brand opening date: November 12th, 2018 (Monday)
Site area: Approximately 1,000 square meters (303 tsubo)
-Inquiries concerning tenant applications/previews
TEL: 092-710-7050 / Mail: suguro@zeroten.jp / Contact Person: Suguro
-About "District6 (D6)"
District6 is a co-working space developed, co-owned and operated by InSitu Asia based in Singapore, within a 5-minute walk from City Hall MRT Station. Located on the 2nd floor of Odeon Towers near Raffles Hotel and CHIJMES, two of Singapore's most iconic buildings. With a floor area of about 1,000 square meters, there is an extensive layout that includes a hot-desking area, 2-4-person studio offices, 5-20-person private offices, and a lounge that includes a coffeeshop operated by Kurasu. The lounge is available for private bookings and can hold events for 70 seated guests or up to 120 standing guests.
Website: http://district6.co
.
-About "InSitu Asia"
InSitu Asia is a hotel and coworking development, management and investment company based in Singapore. InSitu Asia has been involved in development, branding, and management of boutique hotels since its establishment in 2016, and in 2017 it co-funded, developed and opened District6, the first Proptech-focused coworking space in Singapore. InSitu Asia actively invests in real estate and hotel tech companies while utilizing its expertise of hotel and coworking space development and management.
Website: http://insituasia.com
.
-About "The Company"
The Company is a completely new workspace and community that makes it possible to create new teams and tackle big projects with a focus on workshare and multi-locations. "Individuals combine to make up professional teams," "teams can be created that are not limited by a company's framework," "domestic and overseas networks are created to enable global work" – the aim is to create not simply a shared space, but a space that enables community building. 
Website: http://thecompany.jp
-Operating company (Zero-Ten Group Company)
Company name: Zero-Ten Park Co Ltd
​Date established: July 2nd, 2018 (Monday)
​Address: 8-13 Gion-cho, Hakata-ku, Fukuoka City
​Representative: Representative Director Jiro Enomoto
Business description: Planning, management, and consulting for shared office projects and accommodation facilities such as hotels and inns
Planning, management, consulting, and production of various shops, buildings, and indoor space designs
Consulting for all of the above businesses
-Company Profile
Company name: Zero-Ten Co Ltd
Location: 8-13 Gion-cho, Hakata-ku, Fukuoka City Daiichi Prince Building 1F
​Representative: Jiro Enomoto
​Date established: September 9th, 2011
​Official website: http://zeroten.jp
Source: District6 Pte Ltd
Share:
---
Categories: Real Estate
Tags: consultancy, coworking, developer, offices, operator, real estate, singapore
---