Insightin Health Tags Experienced Healthcare Leader, Derek Baehre, as Chief Revenue Officer
Insightin continues to build out its team of industry experts to humanize the healthcare experience
Press Release
-
updated: Oct 2, 2019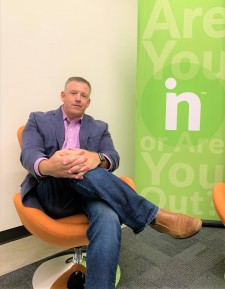 BALTIMORE, October 2, 2019 (Newswire.com) - Insightin Health is excited to announce the selection of Derek Baehre for Chief Revenue Officer. In his role, Mr. Baehre will be responsible for leading all efforts associated with sales, marketing and revenue generation for the organization.
Mr. Baehre brings with him 20 years of sales and leadership experience in the healthcare payer industry, making him a true subject matter expert in healthcare payer administrative and operational requirements. His diverse experience has included responsibilities of solution development, territory management, account team leadership, and executive sales leadership. Prior to joining Insightin Health, Mr. Baehre held senior sales leadership positions with industry-leading technology organizations such as Trizetto, Dell, Optum, and Welltok. 
Baehre's comprehensive understanding of the financial and operational value propositions of technology, software and business process services for healthcare organizations, paired with his proven ability to communicate these values to executive-level decision-makers, makes him an invaluable asset to the Insightin Health team.
"We are extremely excited to have Derek on-board as our Chief Revenue Officer. Derek's diverse and impressive healthcare experience will be a great asset in collaborating with our clients," says Insightin's CEO Enam Noor. "His visionary approach to improving healthcare and delivering a better consumer experience will be a great addition to our mission of humanizing the healthcare experience for consumers to create a healthier population. Our industry-leading, best-in-class team will be greatly complemented by Derek's leadership role." 
Insightin Health's core platform combines medical, clinical and cognitive behavioral data, and social determinants of health to create an actionable consumer insight and deliver the Next Best Action for a more satisfying healthcare experience
"This is a very exciting time in healthcare, as patients, members and employees are now being viewed as direct consumers of the healthcare ecosystem," said Baehre. "The products, technologies, and services that have been in place for decades are just not capable of supporting the dynamics of these changes. Insightin's platform is uniquely positioned to assist our customers in addressing the business needs associated with the exponential expansion of consumerism in healthcare."
About Insightin Health
Insightin Health is the industry's only single platform that provides a complete, personalized member engagement for each step of the health care journey. The core platform combines medical, clinical, cognitive, and social determinants of health to recommend the Next Best Action (NBA) for each person. Health plans can improve quality measurements, gain higher member satisfaction and increase member retention. The simple integration and easy-to-use platform create an effective shift towards a healthier population for the health plans. For more information, visit https://www.insightinhealth.com.
For inquiries 
Insightin | Health
333 W Ostend Street
Suite 110
Baltimore, MD 21230
Shayna Etches, Marketing Manager
setches@insightinhealth.com
+1.888.524-6744
Source: Insightin Health
Share:
---
Categories: Healthcare Insurance
Tags: acquisition, Dell, healthier population, healthy behaviors, lower healthcare costs, marketing, member engagement, member loyalty, next best action, retention, revenue, sales leadership
---