Innovo's INNODRIVE Reel Drive System Completes a Remarkable 15 Months' Umbilical Laying and Spooling Activity With 0% Downtime
Press Release
-
updated: Nov 2, 2017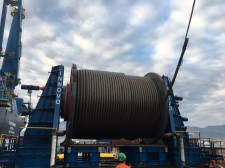 Aberdeen, UK, November 2, 2017 (Newswire.com) -
Innovo has recently completed work for a global contractor in the Mediterranean Sea that has seen the INNODRIVE reel drive system achieve 70% utilisation, 0 hours' maintenance and 0% downtime.
The contractor selected Innovo's INNODRIVE ahead of competitors thanks to the system's unrivalled reliability and following successful previous contract delivery with Innovo.
Stefano Malagodi, general manager of Innovo, said, "The INNODRIVE is our response to the demand from operators and contracts for a powerful, reliable and quick-to-mobilise reel drive system for today's market.
"It can transport 800 ton reels in a sea-state of eight with only the hub engaged and without sea-fastenings. We believe this makes it not only the largest available worldwide, but also the most economical thanks to time savings.
"Customers have the added advantage of using our Electrical Driven Lay Spread (EDLS) system which we provide in partnership with Sparrows Group. It enables us to reduce the staff dedicated to system operation by up to 40%.
"These figures demonstrate that Innovo is well-placed to deliver the cost savings and predictably reliable equipment that the market demands."
Innovo is unique in being the only company with 10 years' experience in designing, building and operating electrical reel drive systems. Safety and reliability are key and the INNODRIVE system is fully certified by Lloyd's Register. The INNODRIVE 800 is the most powerful system on the market with a product capacity of 800 mT, peak torque of 350 mT at full speed, peak pull of 318 mT at full speed and Dynamic Amplification Factor (DAF) of 1.3.
Source: Innovo
Share:
---
Categories: Energy, Engineering
Tags: Innodrive, Innovo, reel drive, spooling, umbilical lay
---