Innovative Work Experience Program Sees Child Care Graduates 'Fit for Work'
Press Release
-
updated: Aug 17, 2018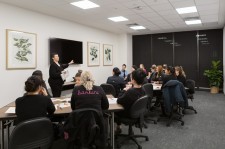 MELBOURNE, Australia, August 17, 2018 (Newswire.com) - ZOI Education, with its state-of-the-art campus in Melbourne, Australia takes an innovative approach to providing work experience for those studying Early Childhood Education and Care. Students complete double the number of hours 'on the job training' required by the regulatory body. The program takes a fresh and integrated approach. As a result, graduates are job ready: confident and competent.
In designing and implementing their work experience program, ZOI Education has taken on board a key recommendation of The Australian Skills Quality Authority (ASQA). In 2014, ASQA noted that work experience programs in the Child Care sector were, all too often, poorly executed. ASQA called for better cooperation between education providers and child care centres, greater commitment to shared educational goals and better monitoring of students on placement. Recommendations followed industry feedback identifying many child care graduates as ill-prepared for the workplace.
ZOI Education has developed a work experience program that exceeds industry norms. Students attend work placements on a weekly basis and time spent 'on the job' is significantly greater than the minimum required. As theory is taught, it is applied and student performance monitored. This provides an integrated and holistic learning experience. Embedded in the program is a commitment to producing graduates who understand and respect the needs of children from different cultural and ethnic backgrounds: a necessity in today's classrooms.
Child Care Centres are carefully screened to ensure they meet regulatory requirements. They must have the skills and resources to ensure first-class training and monitor student progress in partnership with ZOI Education. Paul Koukounaras, the CEO of ZOI Education explained the mission of ZOI Education, "Our commitment to learning excellence is underpinned by our selective entry process. Our mission is to nurture the lifelong learning habits of future generations through educating passionate early childhood professionals." Students benefit both directly and indirectly from these high-quality placements. They enjoy a professional and supportive learning environment and can include placement details on their resumes.
While studying Early Childhood Education, students can access a host of support services at no additional cost. These include: individual mentoring by trainers, supplementary or modified study materials, supervised study groups and job placement assistance.
ZOI Education also has provided a network of external service to the students who need additional support for job ready and skills. This encourages student retention and ultimate success.
Child Care Courses with proper integration of theory and practice and comprehensive support services produce graduates that are 'present and correct' on day one of their first job.
ZOI Education offers a monthly free trial class for prospective students. The students who interested in childcare courses have the opportunity to experience one-hour trail class with existing currents students and trainers. After the class experience, the school tour is also provided with ZOI Education staff.
Get in touch via the website or T: +61 3 8347 4100
E: info@zoi.vic.edu.a
Source: ZOI Education
Share:
---
Categories: Education
Tags: Australia Education, Certificate III In Early Childhood Education And Care, Child Care Courses, Diploma In Early Childhood Education and Care, Early Childhood Education
---