Innovative Padkix Period Panties Featured on Buzzfeed Are Back With New Kickstarter Purchase Campaign
A new improved version of the very popular period-proof women's underwear is now available for purchase through a Kickstarter crowdfunding campaign.
Press Release
-
May 25, 2016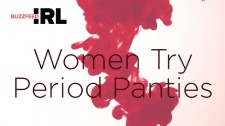 Los Angeles, CA, May 25, 2016 (Newswire.com) - Padkix Period Panties, created by Padkix Design Labs, was highlighted on Buzzfeed and trending online last November 2015. A video of women trying out the product and talking about their positive experiences has been viewed more than 5 million times showing just how much interest there is a product of this nature. The company has released a new improved version of the period panties and is launching a crowdfunding campaign on Kickstarter for those interested in making a purchase.  
Padkix is a washable dual-layer women's underwear with a built-in period absorber made of bamboo microfiber, cotton, and a liquid blocker at the base. Padkix's innovative design is three times more absorbent than a typical disposable pad and eliminates the use of pads altogether. To date, 323 backers have pledged $24,107 with 26 days left in the campaign.
There are three designs that Padkix is available in including chevron, stripes and polka dots and sizes run from small to 3XL. Through the campaign, the company is also providing an eco-friendly, delicates protector wash bag and their Rose Bag, which is a water-resistant, stain-proof bag made of recycled materials. Those who have already pledged their support have positive praise for the product.
"I finally got to use my Padkix last night and I'm happy to report that I found no leakage anywhere when I woke up this morning," says Taiga Aisaka. "I am so happy with my investment. I plan to get more for my friends and family too."
The company has set up several purchase packages for Kickstarter pledges ranging from $25 for one Padkix in any size and design and one Rose bag. For higher-end investments like $100 pledged, customers will receive five Padkix in any size and design and one Rose Bag and one wash bag. For a pledge of $180, customers will receive 10 Padkix in any size and design with a two rose bags and two wash bags.
Once the campaign is finalized, the company will send a survey to their backers so they can choose sizes and designs. To view the product, purchase packages and pledge, visit Padkix Period Panties on Kickstarter.
About Padkix Design Lab
Padkix Design Lab is an independent creative firm focusing on high impact products that provides fundamental solutions to common problems.
Source: Padkix Design Lab
Share:
---
Categories: Internet and Streaming Media, Fashion and Apparel, Social Media, Parenting, Women's Issues
Tags: Buzzfeed, Crowdfunding, Innovative, Kickstarter, Period Panties, Trending, Women, Womens Underwear
---