Innovative Modular Solutions Once Again Recognized by the Modular Building Institute
Innovative Modular Solutions receives first place for temporary healthcare building at modular industry's annual conference.
Press Release
-
updated: Apr 8, 2019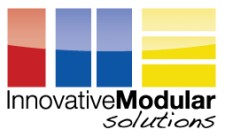 OSWEGO, Ill., April 8, 2019 (Newswire.com) - Innovative Modular Solutions (IMS), headquartered in Oswego, Illinois, received a first place award at the annual Modular Building Institute (MBI) Convention on March 18 in Las Vegas, Nevada.
MBI's Awards of Distinction recognizes modular construction projects that demonstrate architectural excellence, technical innovation, cost-effectiveness, energy efficiency, and an accelerated construction timeline.
IMS and the project team provided modular buildings to a provider of pre-engineered radiation shielding equipment to supplement their facility housing, a Linear Accelerator used to treat small animals at Iowa State University (ISU), a major Midwestern Research University.
The modular portion of the building, 598 sq. ft., features all steel framing that was designed to support a site-built roof. The floor in the Control Room was designed to allow the 10,000 lb. Linear Accelerator to be rolled from the existing building through the modular and into the vault.
IMS assembled a team that included Art's Way Scientific, Invision Architects, Bishop Consulting Engineers, MEP Engineers, and Pyramid 1 to design, manufacture, and install the support buildings. The modules were delivered at 75 percent completion to allow for necessary connections to be made between the Linear Accelerator located in the vault and the Control & Mechanical Rooms of the modular building. IMS worked with local trade contractors to complete the installation.
Each year the Awards of Distinction are given to recognize the best modular building construction projects completed by MBI members. An impartial panel of industry and non-industry construction and code experts, architects and engineers, and marketing professionals review each entry.
"It is again an honor for IMS to win an award!" commented Kevin Maiden, Vice President of IMS. "We attribute all of our awards to our committed and dedicated employees, vendors and subcontractors. We are also honored to have great diverse and open-minded customers that allow the modular industry to provide a high-end product that both looks and performs very well. We are especially proud of this building because of its diverse use."
About Modular Buildings
Modular buildings utilize the resource efficient process of factory-built construction, where the initial construction occurs in a controlled manufacturing environment. Partially finished modules are transported to the project site for completion. Modular buildings can be used for both temporary and permanent applications and are appropriate for a wide variety of uses, including schools, medical facilities and commercial offices. The advantages include the speed of construction, product flexibility, financing options, and overall cost. Additionally, the modular construction process is inherently green as it offers waste minimization, material efficiency and minimal site disruption.
About the Modular Building Institute
The Modular Building Institute is the nonprofit trade association representing companies around the world involved in the manufacturing and distribution of commercial factory-built structures. MBI provides services and promotes professionalism through communication, education, and recognition. Dedicated to enhancing the future growth of the industry, MBI encourages innovation and quality among its members.
About Innovative Modular Solutions
Established in 1999, Innovative Modular Solutions is dedicated to building high-quality modular buildings, including modular classrooms, modular offices and other commercial modular environments. IMS is focused on providing customers with consistent, professional service. As a result, IMS has become a leading provider of modular buildings for temporary or permanent space throughout the Continental United States. For more information, please visit http://www.innovativemodular.com.
Media Contact Information: Kristin Marino | Marketing Manager |  kmarino@innovativemodular.com
Source: Innovative Modular Solutions
Share:
---
Categories: Construction
Tags: construction, Healthcare, IMS Modular, MBI, modular, MRI, Offsite, Prefab
---