Innovative Modular Solutions Builds MRI in Hanover, PA
The newly opened WellSpan Health and Surgery Center in Hanover now offers the only MRI of its kind in Pennsylvania
Press Release
-
updated: Oct 11, 2019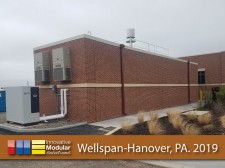 HANOVER, Pa., October 11, 2019 (Newswire.com) - Innovative Modular Solutions (IMS), headquartered in Oswego, Illinois partnered with WellSpan Health & Surgery Center for the addition of a MRI unit to their new Hanover, PA facility. Originally designed as a mobile MRI to be adjacent to the new construction, WellSpan decided to change to a fixed imaging suite due to patient demand, after groundbreaking on the new Health and Surgery Center. IMS worked cohesively with the WellSpan team; Alexander Building Construction Co., the project general contractor; and Wilmot Sanz, the project architect, to develop and design a modular solution that blended seamlessly. Modular construction allowed for this change without disrupting the work that was already in process and offered the ability to keep the imaging suite construction on the same time schedule as the larger building.
"IMS is thrilled to be a part of this project, which will provide much-needed healthcare services to the local community," commented Patrick Carmody, President of IMS. "We attribute the success of this project to the forward-thinking project team, who recognized that modular construction provided a solution not available with other forms of building. This was a complex project that moved from concept through design, manufacture, construction and on to occupancy in less than nine months!"
Vice President of IMS, Kevin Maiden added, "This challenging project could not have been so successfully accomplished without the commitment of our employees, vendors and subcontractors."
IMS was selected because of their experience and proposed solution, which included a modular building to house the state of the art Philips Ingenia Elition 3.0T MRI. The modular design includes the necessary interior design to house and facilitate the MRI, a brick exterior to blend seamlessly with the hospital facility and an attached corridor providing ease of access for patients and staff.
With the ingenuity of this new MRI facility, Wellspan Health & Surgery Center is able to offer their patients a sophisticated MRI that can read and interpret data using artificial intelligence, providing faster scan speeds, clearer images and a quieter, more calming experience.
About Modular Buildings
Modular buildings utilize the resource-efficient process of factory-built construction, where the initial construction occurs in a controlled manufacturing environment. Modular buildings can be used for both temporary and permanent applications and are appropriate for a wide variety of uses, including schools, medical facilities and commercial offices. The advantages include the speed of construction, product flexibility, financing options, and overall cost. Additionally, the modular construction process is inherently green as it offers waste minimization, material efficiency and minimal site disruption.
About Innovative Modular Solutions
Established in 1999, Innovative Modular Solutions is dedicated to building high-quality modular buildings, including modular classrooms, modular offices and other commercial modular environments. IMS is focused on providing customers with consistent, professional service. For more information, please visit http://www.innovativemodular.com.
Source: Innovative Modular Solutions
Share:
---
Categories: Construction
Tags: construction, Healthcare, IMS Modular, MBI, modular, MRI, Offsite, Prefab
---