Innovative Global Fitness Pioneer Judi Sheppard Missett Receives Inaugural Gus Giordano Legacy Award for Her Contribution to the World of Dance.
Press Release
-
updated: Oct 17, 2017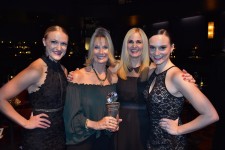 CARLSBAD, Calif., October 17, 2017 (Newswire.com) - Friday, Oct. 13, global dance fitness pioneer Judi Sheppard Missett was presented with the inaugural Gus Giordano Legacy Award by Amy Giordano at the Mayne Stage in Chicago, Illinois. Hosted by the Gus Giordano Foundation, the event not only honored the contribution Sheppard Missett has made to the dance community but also raised funds to support young dancers.
Also known as "Godfather of American Jazz Dance," Gus Giordano was an American jazz dancer and choreographer who was one of the pioneers of the style known as Jazz Dance. Following a Broadway career, Mr. Giordano moved to the Chicago area and opened a dance school in 1953. He was the first and only Jazz Master to codify his own technique in Anthology of American Jazz Dance 1975.
"For my name to be linked with his is so humbling for me. I think of him as this giant," admits Sheppard Missett. The Legacy Award was created in July 2017 as a way to honor innovators of dance. Sheppard Missett was chosen by the Foundation to receive the inaugural award due to the international reach of her dance fitness program, Jazzercise. Founded in 1969 in Giordano's Chicago dance studio, Jazzercise started with Sheppard Missett's simple instinct to turn her students away from the mirror, an idea she says Gus supported. Today, Jazzercise boasts more than 8,000 instructors and 3,000 locations worldwide. Being awarded this honor was, for her, "really special because it made me feel a part of Gus' history and his contribution to the world."
The evening was filled with performances and special moments, notably a revival of "Steam Heat" during which a 1960s video of Giordano dancing the piece played behind a live performance by Giordano's granddaughter and Gus Company Director Lauren Giordano Curran. "Dance meant so much to Gus, but his family always came first," says Sheppard Missett. "He involved his family in everything. We shared that common thread about how important family was." She adds, "When you get an award this unique and special, it's so important and meaningful to share it with your family, especially my two granddaughters who are dedicated dancers themselves."
Says Sheppard Missett, "Gus was my mentor, he was my friend. He was the one who enabled me to try a little idea that became what Jazzercise is today."
About Jazzercise
Jazzercise believes you can create a stronger, happier, healthier life through fitness. The company draws on the passion to motivate and inspire customers, instructors and employees plus to develop fun and effective fitness routines and products that enhance the well-being of people of all ages. Learn more about Jazzercise at www.jazzercise.com.
Media Contact: 
Allison Stabile
Phone: 760-602-7160
Email: astabile@jazzercise.com
Source: Jazzercise, Inc
Share:
---
Categories: Entrepreneurship, Sports, Fitness, and Recreation, Dance, Awards, Arts and Entertainment
Tags: award, dance, entrepreneur, fitness, Jazzercise, legacy
---