Innovative and Unique Home Gym Alternative
Rotating Climbing Wall Fits in Any Room and Provides Home Owners a Fun, Safe, Challenging, Whole-Body Workout
Press Release
-
updated: Jul 14, 2020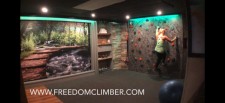 LANCASTER, Pa., July 14, 2020 (Newswire.com) - Freedom Climber LLC, manufacturer of the rotating climbing wall called the Freedom Climber, introduces homeowners to a unique and innovative alternative for their home workouts. With more and more fitness enthusiasts trying to figure out what their relationship to public fitness spaces should look like, home workouts are increasingly seen as a viable alternative. Designed with attention given to form and function from a minimalist mindset, the Freedom Climber provides a whole-body workout while taking up no more space than a wide set of bookshelves.
Inventor and President Terry McCall says ever since he started doing trade shows, people have been commenting about the footprint of the Freedom Climber and noting "that looks like it would fit in my home". McCall follows up with the fact that when he designed the Freedom Climber, he wanted it to fit in rooms with 8' ceilings.  He says that from the outset the objective was to provide safe continuous climbing in spaces never imagined as supporting climbing. And because climbing is a whole-body workout, it is the only piece of equipment needed.  The Freedom Climber easily mounts to existing walls and extends out from the wall just 8". The Freedom Climber brings all the health and fitness benefits of climbing into the home or any facility interested in having access to climbing. Due to the rotation of the surface, the attempt to climb upward is nullified by the downward rotation of the wall, keeping the user in a close and safe proximity to the floor yet in a state of continuous climbing until they step off.  It is the user's weight and action of climbing that causes the rotation.  There is no motor and no electricity required to operate.
One of the unique physiological benefits of the Freedom Climber is due to the rotational aspect of the climbing, which works joints and muscles in orbital and rotational movements. In addition, the Freedom Climber comes with anchor points that accommodate resistance band and bodyweight suspension training. The surface can also be used for plyometrics, which is a great way to add high-intensity interval training to a workout. By enabling climbing, resistance and suspension training, as well as plyometrics, the Freedom Climber serves as a workout station where circuit training can be done by three individuals simultaneously.   
Freedom Climbers have been installed in over 30 countries and are found in facilities ranging from fitness centers to military bases, from corporate wellness spaces to physical therapist's offices, from university rec centers to resorts, and from multifamily complexes to single-family homes.
The cost is comparable to a commercial grade treadmill. The company's website is www.freedomclimber.com. And inquiries can be made to info@freedomclimber.com.
Source: Freedom Climber
Share:
---
Categories: Sports, Fitness, and Recreation
Tags: climbing at home, functional training, home fitness, unique home gym, whole body workout
---