Inlightened Launches to Drive Responsible Disruption in Healthcare Innovation
Press Release
•
updated: Aug 12, 2020
Boston-based startup's platform is first web-based, healthcare-only network of vetted clinical specialists that connects innovators with expertise. Company enters $8.7B U.S. healthcare market research and expert network markets.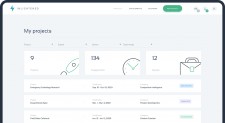 BOSTON, August 12, 2020 (Newswire.com) - ​​​Inlightened today announced the launch of its tech-centric, web-based network platform that enables healthcare companies to find, collaborate, and contract with the country's top clinical minds. Across healthcare, the urgency is clear; the COVID-19 pandemic has exposed significant gaps in U.S. healthcare, demanding bold innovators design solutions to address them. While healthcare thrives on innovation and speed to market, progress requires special considerations and responsible disruption.
With a failure rate as high as 96 percent in healthcare innovation – and a heightened need for fast, yet responsible industry disruption – Inlightened seeks to dramatically increase opportunities for success by ensuring seamless access to leading clinical experts.
"There is consistent, recurrent feedback that healthcare innovations don't address the needs of their target market and miss the mark in terms of improving patient care," said Shelli Pavone, CEO and Co-founder of Inlightened. "We created Inlightened to bridge the knowledge gap that contributes to these issues. Our goal is to eliminate obstacles and empower the healthcare community to design solutions that will actually succeed in making an impact."
How It Works
The Inlightened platform brings together subscriber companies — ranging from idea-stage startups to established institutions — seeking healthcare expertise and a diverse network of clinical specialists interested in shaping the future of their fields. The web-based solution handles vetting, contracting, scheduling, and payment, effectively eliminating the administrative burden and allowing innovators and experts to focus on collaborating seamlessly.
Inlightened's focus is on healthcare. The industry presents unique challenges, and experts need to be vetted and chosen for their highly specialized knowledge.
Inlightened's clinical experts are proactively vetted and onboarded. Experts must be invited by their peers, and then go through a vetting and onboarding process to ensure they are the right fit for the network. Once a part of the network, they set their own fees and are able to evaluate offers before committing to a project.
Subscriber companies are empowered to create projects. Users are able to design projects, search and invite experts, and manage engagements on mutually agreeable terms.
"Buoy is an AI-driven healthcare navigation platform that helps individuals figure out what they are experiencing from a clinical perspective, and directs them to the right care at the right time," said Andrew Le, MD, CEO and Co-founder of Buoy Health. "We strive to provide the best medical content that addresses even the most obscure symptoms, and through the Inlightened platform, we've been able quickly and efficiently scale our efforts, engaging a variety of clinicians across specialties and experience levels, to increase the speed at which we work, and maintain the quality of the work we do."
"Truly advancing healthcare innovation is going to require broad collaboration and extensive knowledge sharing," said Kevin Ban, MD, Chief Medical Officer of Walgreens and Inlightened Advisor. "Today, many innovative healthcare firms lack the resources and bandwidth needed to arrange one-off consultations, nevermind hire a Chief Medical Officer. With healthcare as varied as it is – and innovation so critical to the future of the U.S. system – it is essential for innovators to source diverse perspectives and engage early and often. Inlightened is well-positioned to significantly improve the process and facilitate the kind of disruption we need right now."
For more, visit getinlightened.com.
About Inlightened
Inlightened is the only network of curated and vetted healthcare experts that leverages technology and transparency to facilitate collaboration, enable responsible disruption, and advance innovation in healthcare. Inlightened seeks to bridge the knowledge gap between the companies and individuals trying to drive change and its diverse network of clinical experts – including administrative leaders, award-winning academics, patient advocates, trailblazing researchers, physician executives, serial entrepreneurs, and social change agents.
Additional information about Inlightened is available at getinlightened.com, https://www.linkedin.com/company/getinlightened/, https://www.facebook.com/getinlightened/ and https://twitter.com/GetInlightened.
For media inquiries, please contact:
Kristin Faulder (on behalf of Inlightened)
kristin@heurisay.com
(586) 419-4652
Source: Inlightened
Tags