InfusionPoints Achieves Amazon Web Services (AWS) Security Competency Status
Press Release
•
Mar 23, 2022
AWS Security Competency is a huge achievement that differentiates InfusionPoints CyberSecurity technical expertise and demonstrates customer success in accelerating Secure Cloud Deployments and Operations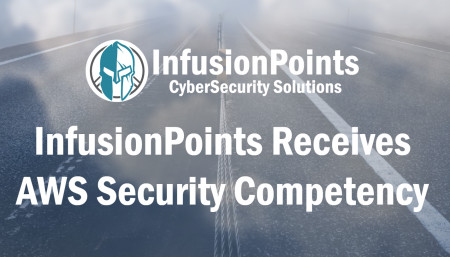 NORTH WILKESBORO, N.C., March 23, 2022 (Newswire.com) - InfusionPoints, LLC, a leading CyberSecurity Advisory, Technology, and Managed Services firm, today announced it has achieved Amazon Web Services (AWS) Security Competency. This AWS Competency demonstrates InfusionPoints' commitment to provide secure solutions to all its customers. InfusionPoints provides security automation in AWS with its XccelerATOr CyberSecurity Framework and AWS Virtual Security Operations with its VNSOC360° services. InfusionPoints is committed to working closely with AWS customers to secure their cloud operations from concept to operations.
"We're proud to achieve the AWS Security Competency status. This achievement demonstrates our commitment to building secure AWS cloud environments from the start, by accelerating the deployment and application integration with InfusionPoints' XccelerATOr CyberSecurity Framework," said Keifer Blandon, InfusionPoints' Product Development Lead.
Chad Spears, InfusionPoints' Director of Operations, states, "We leverage our 15 years of experience providing managed security operational services to defend our customers' AWS cloud environment from threat actors. We firmly believe that the greatest threat to an organization's cloud infrastructure is the operations and security controls infrastructure. It's important for security, development, and operations teams to effectively eliminate gaps across cloud environment to reduce the threat surface."
InfusionPoints' VNSOC360° services, provides virtual security operational capabilities to empower cloud teams with near-real-time situational awareness for their cloud environment. In addition, InfusionPoints' XccelerATOr CyberSecurity Framework, provides automation for military strength security controls to consistently enforce security across the entire organization.
To learn more about InfusionPoints AWS Security Competency status, please visit the following websites:
https://infusionpoints.com/solutions/xccelerator
https://infusionpoints.com/solutions/soc-as-a-service
https://www.infusionpoints.com/solutions/fedramp
https://www.infusionpoints.com/solutions/aws
Source: InfusionPoints, LLC