Infrared Cameras, Incorporated Joins the AWS Public Sector Partner Program
Press Release
•
Jul 26, 2023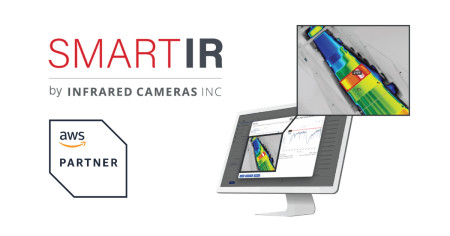 BEAUMONT, Texas, July 26, 2023 (Newswire.com) - Infrared Cameras, Incorporated (ICI) announced today that it has joined the Amazon Web Services (AWS) Public Sector Partner (PSP) Program and completed the AWS Foundational Technical Review (FTR) to validate SmartIR. Completing the AWS FTR ensures ICI's solutions uphold AWS standards in architectural design. In addition, the AWS PSP Program helps AWS Partners grow their public sector business through alignment with AWS public sector sales, marketing, funding, capture, and proposal teams.
ICI leverages AWS to power its intelligent thermal imaging and condition monitoring software, SmartIR. Validated by the AWS FTR, SmartIR utilizes data points from thermal imaging and sensing technologies to continuously monitor the performance and condition of critical mechanical and electrical assets in industrial, environmental, and commercial settings. The SmartIR platform informs predictive maintenance for these assets, provides early fire detection and safety alerts, and robust reporting and analysis capabilities to optimize operational processes. By reinforcing SmartIR around AWS best practices for security, reliability, and operational excellence, ICI delivers a fully scalable asset reliability and safety platform built on AWS.
"ICI is honored to join the AWS Public Sector Partner Program," said Gary Strahan, CEO of ICI. "AWS has long been recognized as a leading cloud services provider and it is an honor to meet their standards and bring their technical advantages to our customers leveraging our SmartIR solution."
As an AWS PSP Program member, ICI is recognized as an AWS Partner with cloud-based solutions that have experience supporting government, space, education, and non-profits around the world. ICI has long provided solutions to government entities, including the Centers for Disease Control and Prevention, The Department of Transportation, and various state and municipal governments.
For more information, please visit www.infraredcameras.com/smartir-platform.
About Infrared Cameras, Incorporated
ICI builds thermal imaging and sensing platforms that are utilized by organizations to protect critical assets across a wide range of industries including distribution & logistics, manufacturing, utilities, and oil & gas. ICI's sensing solutions are built around high-resolution thermal imaging along with visible, acoustic, and laser spectroscopy imagers and sensors, that perceive and measure heat, sound, and gas in the surrounding environment, helping companies gain insight to efficiently manage their most important assets and infrastructure. ICI designs and manufactures digital thermal sensing solution platforms with edge and cloud-based software.
ICI believes that its digital thermal technology platform positions it at the center of a global revolution in thermal sensing, as the introduction of continuous streaming thermal data coupled with automated insights replaces intermittent manual thermal analysis, and cloud-connected thermal big data capture enables artificial intelligence and machine learning to elevate critical asset management to a new level. For more information, please visit https://infraredcameras.com/.
Source: Infrared Cameras, Incorporated