Influenster Announces 2019 Women in STEM Scholarship Winners
Leading Product Reviews Platform Supports Next Generation of Female Leaders
Press Release
-
updated: Jun 10, 2019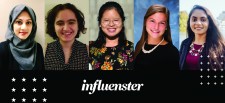 NEW YORK, June 10, 2019 (Newswire.com) - After reviewing more than 400 scholarship applications, Influenster, the leading products reviews platform with 36MM+ reviews written by 5.5MM+ members, is pleased to announce the five deserving women who have received the 2019 Influenster Women in STEM scholarship: an award designed to uplift women in tech fields and create opportunities to encourage and empower future female leaders.
"This year marked a significant increase in applicants to our scholarship program, a sign in and of itself that the tide is turning, with more women than ever excited and engaged in technical fields. As a female founder of a digital company, it's important for me to share my own experience to help other women uncover their strengths and create a path to success," says Elizabeth Scherle, President and Co-Founder of Influenster. She continues, "It all starts with an idea that solves a unique challenge. In the case of Influenster, that idea was to connect consumers with brands to streamline the feedback process. We were absolutely blown away with the number of incredible, innovative ideas included in this cycle's application pool, and the progress these remarkable women have made in bringing them to life."
As part of the scholarship process applicants submitted written responses detailing their interests, achievements and thoughts about how best to recruit more women into the traditionally male-dominated STEM fields. The 2019 winners stood out for already having made a unique contribution and impact on their area(s) of study, expressing their views in a particularly distinct way, plus having a clear future vision. With sponsorship from United Charitable Fund, each winner will receive a $1,000 award in support of their career aspirations, to be used for tuition and/or academic expenses. Check out our future female tech leaders below:
Esraa ِAbdelmotteleb, Rutgers-New Brunswick University
Master's 2020, Computer Engineering
Adelmott led a team of two other students developing a micro-electro-mechanical system fabricating a biosensor to detect early-stage lung cancer in less than 5 minutes which costs only $20 per sensor, ultimately increasing patients' survival rates from 15% to 49%.
Yulie Park, University of California Berkeley
Bachelor's 2020, Computer Science
As a computer science major Park seeks to impact real-world action on a larger scale through creative programming. She is studying machine learning and conducting AI research with a dream of becoming a Computer Science professor and growing her career from there.
Tahsina Sanam, Rutgers-New Brunswick University
PhD 2019, Electrical and Computer Engineering
As the Vice President of the Society of Women Engineers (SWE), Sanam hopes to recruit more women into STEM fields by regularly arranging tech seminars, hackathons and panel discussions focusing on various topics that might be helpful for engaging more women in STEM.
Darshi Shah, Boston University
Bachelor's 2019, Biomedical Engineering
Shah aspires to combine biomedical engineering principles with a passion for medicine to improve patient care through advanced diagnostic and therapeutic solutions, and has worked to devise a means to delay memory loss in dementia patients as well as innovative approaches to cancer treatment.
Lucy Spicher, Pennsylvania State University
Bachelor's 2021, Biomedical & Mechanical Engineering
While working in Kisumu, Kenya, through Penn State's Humanitarian Engineering and Social Entrepreneurship (HESE) Spicher created the first economically safe 3D-print prototype for stethoscope earpieces repairing six sets for just twelve cents. She is also Director of SWE Stayover, a mentorship program for high school students interested in engineering.
Accredited universities from across the country like Harvard, Stanford, NYU, Berkley and more assisted in spreading the word about Influenster's scholarship initiative by sharing it on their university's scholarship websites. In the future, Influenster aims to turn this program into an ongoing scholarship initiative active for both the Spring and Fall semesters to continue supporting women in STEM and their aspirations on a larger scale.
###
About Influenster
Influenster is a social shopping experience where community meets commerce. The platform has more than 36MM product reviews, growing by 1MM monthly, written by 5.5MM+ members. Members come to Influenster to read and write reviews, share photos and videos, participate in product discussions, earn rewards, and connect with brands and one another. Brands partner with Influenster to generate reviews and social content; to license existing reviews to their brand- and retail-dot-coms, or feature them in sales and marketing materials, to improve conversion; and to gain new consumer and product insights through in-depth review analysis.  Headquartered in New York City, Influenster was founded by Elizabeth Scherle and Aydin Acar in 2010.
About United Charitable Fund (UCF)
UCF's mission is to empower people to help others by fiscally sponsoring targeted charitable programs that effect positive change through charitable, educational, scientific, or religious actions worldwide. UCF programs vary in size, budget and scope, but all share the desire to make a difference in the lives of others. For more information about UCF and fiscal sponsorship, please visit www.UnitedCharitable.org today.
Source: Influenster
Share:
---
Categories: Colleges and Universities, Marketing
Tags: Product Reviews, Scholarship, STEM
---
Related Files
Additional Links