Influenced by His Son, Father Releases Debut Children's Music Album as His '80s-Inspired Alter Ego
Press Release
•
updated: Jun 29, 2021
Freddy Apple's 10-song children's rock album, Dance with Freddy!, now available for streaming and download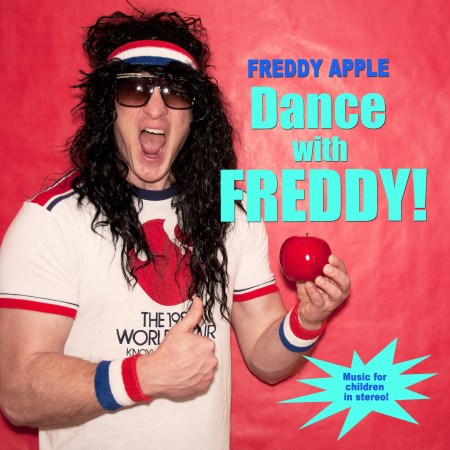 JOHNSON CITY, Tenn., June 29, 2021 (Newswire.com) - Many people found themselves exploring new interests, hobbies, and side projects during the COVID-19 pandemic. Chris Martland, a consultant in the employer analytics organization of a healthcare company, is no exception.
While walking his 18-month-old son to sleep a couple of months into the pandemic, Martland wrote the lyrics and melody in his head for what he believed could work well as a children's rock song. Within the next several weeks, that tune, "The Dinosaur Song," had been fully recorded and posted with an accompanying music video performed under Martland's invented '80s-inspired alter ego, Freddy Apple. Fast-forward a year later to the present day, and his 10-song Freddy Apple debut album, Dance with Freddy!, is now available for streaming and download. Leading up to its June 25 release, Martland posted five Freddy Apple music videos. A couple of his songs have gained significant traction in clips posted by others on Instagram and TikTok.
While Martland has dabbled in music and songwriting for years, writing children's songs is not something he ever planned to take on. The songs on Dance with Freddy! were directly influenced by his son's interest in subjects such as dinosaurs, worms, rockets and outer space, lobsters, elephants, and sharks. While the songs are geared towards children lyrically and melodically, Martland sprinkles in content for adults. For example, significant focus is put into the musical elements of the songs, including the guitar solos, to help ensure the music is enjoyed by children and parents alike. All songs are performed by the Freddy Apple character, and accompanying music videos include unusual and unorthodox dancing. While entertaining and humorous, this dancing is also symbolic of the importance of having fun and bringing energy and enthusiasm into everyday life.
Martland resides in Johnson City, Tennessee, a town nestled in the Appalachian Highlands of East Tennessee. He plans to continue to write and record songs under the Freddy Apple name until either his wife or son requests that he stop doing so.
Dance with Freddy! is available for download on Bandcamp, as well as for streaming on Spotify, Apple Music, and Amazon Music Unlimited. For more information about Freddy Apple, check out FreddyApple.com, or his Instagram and YouTube accounts.
###
Contact: Chris@ChrisMartland.com
Source: Freddy Apple Music
Tags
Related Files