Infinant Secures Funding to Accelerate Technology Adoption for Community Banks
Press Release
•
Mar 28, 2023
Infinant secures funding from FINTOP Capital and JAM FINTOP BankTech to accelerate the adoption of interlace platform for community banks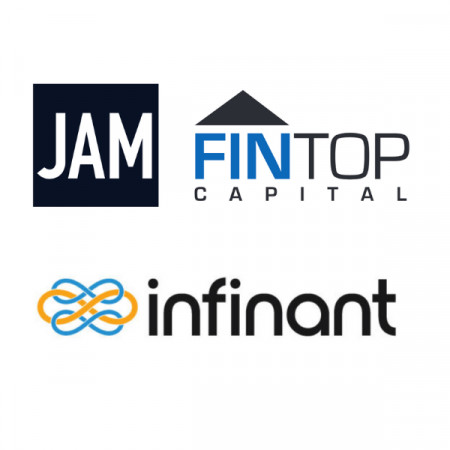 CHARLOTTE, N.C., March 28, 2023 (Newswire.com) - CHARLOTTE, NC-based Infinant today announced it has completed a round of financing with FINTOP Capital and partner, JAM FINTOP BankTech, an investment fund designed to help develop and accelerate technology adoption at community banks across the United States. The funds will accelerate the product expansion and deployment of Infinant's interlace platform.
Infinant provides a cloud-based platform, interlace, for banks to launch and scale their banking-as-a-service and embedded programs under their own control. The solution provides the ability for banks to orchestrate their own banking ecosystem, considered the next step in digital disruption for the financial services sector, by implementing a platform strategy. Through a platform approach, banks are able to offer products and services both inside and outside the bank, embedding banking and embedding fintech into their own applications as well as inside their fintech, brand and merchant partners.
"Financial institutions are quickly evolving their last mile delivery by decoupling from the core and rebundling their products and services in ways that engage the customers when and where they need, which is often outside their bank's application," said Riaz Syed, CEO of Infinant. "In seeing the growing demand for a platform that puts the banks back in control, FINTOP's and JAM FINTOP's partnership will accelerate our ability to meet that demand."
Infinant works with banks to launch their as-a-service and embedded banking programs above-the-core, allowing banks to avoid complex core migration projects while giving the banks a cloud-native platform that can quickly scale to the volumes of customers, deposits and loans coming from their partners.
"Embedded banking and embedded fintech are core themes that we invest in, and our bank network has been asking for a solution just like Interlace. Infinant is reimagining what it means for banks to offer BaaS products to their clients, and we're very excited to work with Riaz and his team to make Interlace the new standard in BaaS," said John Philpott, Partner at FINTOP and a member of JAM FINTOP Banktech's investment committee.
The platform also provides banks an alternative to traditional BaaS providers and the risks associated with outsourcing the tech stack, customers and compliance to third parties, giving banks full transparency into their customers and concentration of deposit types. With the shifting regulatory environment from the first wave of banking-as-a-service and the growth in banking marketplaces and bank networks, many financial institutions are pivoting to have greater oversight and control.
About Infinant
Charlotte, N.C.-based Infinant provides the modern technology platform and accelerating tools for banks to embed fintech in their applications and embed banking in partner applications with confidence and ease. The interlace platform differentiates by giving banks choice in their selection of features, fintech and processors for complete ownership of their ecosystem, so they can succeed with their customers, fintech and brands. To learn more about staying above-the-core and marketplace banking, visit www.infinant.com.
About FINTOP Capital
FINTOP Capital is a venture capital firm focused on early-stage FinTech companies. With over $700 million in committed capital across five funds, FINTOP brings decades of FinTech founding and operating experience to the boardroom, partnering with innovative entrepreneurs to push the frontiers of the financial services sector. For more information, visit fintopcapital.com.
About JAM FINTOP
JAM FINTOP is a joint venture between JAM Special Opportunity Ventures and FINTOP Capital. The partnership brings together bank experts and seasoned fintech entrepreneurs to invest in companies changing the way financial institutions and their customers move, track, and interact with money. For more information, visit https://www.jamfintop.com.
Source: Infinant
Tags