Infinant Joins the Jack Henry™ Vendor Integration Program
Press Release
•
Jan 26, 2023
VIP enables Infinant to integrate with SilverLake System®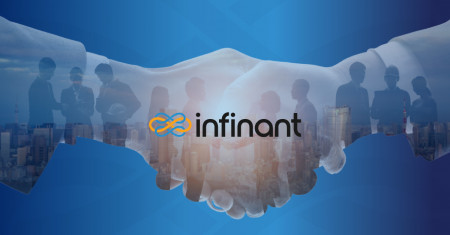 CHARLOTTE, N.C., January 26, 2023 (Newswire.com) - Infinant, a leading embedded finance company that licenses a modern technology stack directly to banks, today announced that it has joined the Jack Henry™ Vendor Integration Program (VIP). Participation in the program will provide Infinant with access to Jack Henry's technical resources to enable Infinant's banking-as-a-platform (BaaS) service, interlace, to integrate with Jack Henry's SilverLake System® core platform. VIP is designed to help ensure Jack Henry's customers can easily deploy third-party products.
Interlace integrates with SilverLake via jXchange™, a services-based programming interface that enables third-party vendors and banks to access the platform's core data and business rules. The integrity of data is maintained throughout any data exchange because access to business rules and data is managed through a service layer that governs these interactions.
The interlace platform provides the cloud-native infrastructure to power community banks' BaaS and embedded finance programs. Our interlace platform can provide direct connections to financial institutions' back-end systems of record, such as SilverLake, or can be deployed using the interlace virtual account system and provide end-of-day settlement to Jack Henry core systems.
Infinant is excited about our work with Jack Henry and the ability to support our Jack Henry community banks. We provide an alternative to BaaS middlemen that outsource technology, customer relationships, data and compliance. Our banks can have full control over their customer relationships, transparency into all customer and account data, and the economic benefits of removing the BaaS provider middleman.
"Our continued focus on the community banking market drives our passion to ensure that all banks can control their embedded banking future. This is a key milestone for the market and for Infinant," says Riaz Syed, CEO and founder of Infinant.
Jack Henry's VIP takes the customer out of the middle, providing vendors with direct access to Jack Henry's technical resources and test systems. VIP inclusion is not an endorsement of the vendor's product.
About Jack Henry & Associates, Inc.
Jack Henry™ is a well-rounded financial technology company that strengthens connections between financial institutions and the people and businesses they serve. We are an S&P 500 company that prioritizes openness, collaboration, and user centricity - offering banks and credit unions a vibrant ecosystem of internally developed modern capabilities as well as the ability to integrate with leading fintechs. For more than 45 years, Jack Henry has provided technology solutions to enable clients to innovate faster, strategically differentiate, and successfully compete while serving the evolving needs of their account holders. We empower approximately 8,000 clients with people-inspired innovation, personal service, and insight-driven solutions that help reduce the barriers to financial health. Additional information is available at www.jackhenry.com.
About Infinant
Charlotte, N.C.-based Infinant provides the technology chassis and power tools for banks to embed fintech in their applications and embed banking in partner applications with confidence and ease. The interlace platform differentiates by giving banks choice in their selection of features, fintech and processors for complete ownership of their ecosystem, so they can succeed with their customers, fintech and brands. To learn more about staying above-the-core, visit www.infinant.com.
Source: Infinant