Industry Shakers Pure CBD NOW and URB Revolutionize Online Wellness Industry With Exciting Collaboration
Press Release
•
Jun 5, 2023
Two Giants in the Cannabis, CBD and Alternative Wellness Industry Unite Forces - Creating a Partnership that Redefines the Possibilities for Customers Purchasing their Products Online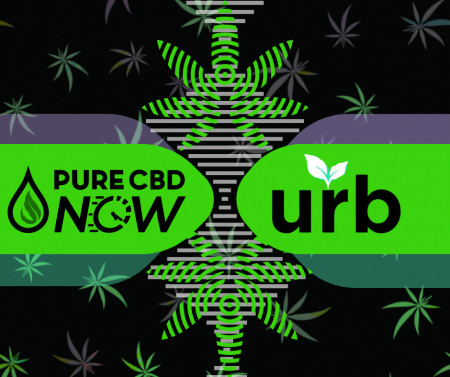 ST. PETERSBURG, Fla., June 5, 2023 (Newswire.com) - Pure CBD NOW, the trailblazing online cannabinoid and alternative wellness company known for its exceptional selection of natural products and supplements, is proud to announce a groundbreaking partnership with URB, a game-changing cannabis brand designed to captivate enthusiasts and connoisseurs alike. This collaboration marks a significant milestone in the industry, creating waves of excitement among CBD enthusiasts and wellness seekers alike.
URB stands at the forefront of innovation, offering a mesmerizing array of cannabinoid blends that redefines the boundaries of the cannabis experience. With a resolute commitment to excellence, URB brings together unparalleled creativity and affordability, making it accessible to both discerning cannabis buffs and everyday enthusiasts.
What sets URB apart is its staunch ethical mission to hardworking farmers across America while driving its own product development initiatives. From crafting delectable in-house gummies to curating extraordinary cannabis blends, URB reinvents what it means to offer a truly elevated experience.
To ensure absolute compliance with state and federal regulations, URB subjects its products to rigorous testing by the DARCP and comprehensive third-party lab evaluations. This unwavering commitment to quality and safety guarantees that every URB product delivers an unparalleled level of satisfaction and peace of mind to its consumers.
"The addition of URB to our esteemed product lineup is a game-changer," proclaims Anthony Bautista, the visionary founder of Pure CBD NOW. "With URB's extraordinary product range and their relentless pursuit of quality and innovation, we are poised to revolutionize the natural wellness industry and provide our customers with an unrivaled experience."
Pure, a pioneer in the field since 2014, has been dedicated to offering the most flavorful and trusted natural wellness products in the United States. The company's concrete commitment to customer service, satisfaction, and rigorous lab testing has solidified its position as a trusted provider of premium products. Born before the CBD boom, Pure foresaw the transformative potential of CBD and its therapeutic benefits.
"Our journey has been marked by a relentless pursuit of excellence," declares Bautista. "Pure is committed to delivering a holistic and accessible lifestyle, empowering individuals to embrace natural and healthy alternatives. Our premium inventory, proven commitment, complete transparency, and exceptional pricing make us the go-to destination for those seeking genuine wellness transformations."
With the inclusion of URB to its product portfolio, Pure further expands offerings, ensuring customers have access to the most trusted and proven brands. Third-party lab testing reports are easily accessible for URB and all featured products on the website. Pure takes pride in showcasing authentic reviews from an engaged CBD community, fostering transparency and confidence in every purchase.
To explore further information between Pure, URB and other trusted vendors, visit www.purecbdnow.com and discover a world of elevated wellness possibilities.
Source: Pure CBD NOW