Industrial Supplies to Be Available at 90 Percent of Their Marked Prices on the Most Reliable Online Packaging Supplies Store
Industrial Supplies' Orders to Leverage More Benefits to the Purchasers as PackagingSuppliesByMail, Popular Packaging Materials Suppliers Have Announced a Huge Cut on Already Reasonable Prices. More Discounts Mean More Savings.
Press Release
-
updated: Nov 3, 2017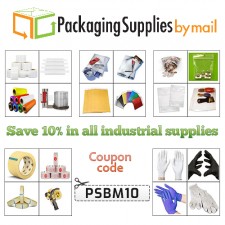 SOLON, Ohio, November 3, 2017 (Newswire.com) - With the intention of popularizing professional packaging mechanisms, PackagingSuppliesByMail.com has been initiating many offers that provide users an opportunity to purchase quality packaging supplies. Recently, they have announced a 10 percent discount on the marked prices of essential industrial supplies including poly mailers, stretch wraps and the most commonly used bubble mailers.
The offer will reportedly last the entire month of November so that customers can enjoy maximum benefits from the sale. Customers have to enter the code 'PSBM10' to avail the discounted price offer. Although industrial packaging supplies seem to be a minor part of routine business activities, they consume a lot of a business' annual spending. Shipping parcels is a normal everyday task and many times businesses take shortcuts on packaging to save money. However, this may lead to huge losses as items may get spoiled or may be affected from natural circumstances such as extreme temperature conditions and mishandling by courier companies. Bubble Mailers and poly mailers serve as safe, reliable and durable packaging materials that make sure items are shipped in their original condition to the receiver. Also, if large stocks of certain items are to be stored for long periods, stretch wraps are the best packaging material to hold items together, reducing any possibility of damage. There are other popular industrial packaging materials that are used such as recloseable bags, industrial gloves and tapes.
The PackagingSuppliesByMail.com team has partnered with experienced professionals to make packaging an affordable routine among businesses, thereby setting a packaging standard for the industry. This offer makes it easy and really cost-effective to stock up on industrial packaging supplies. Announcing 10 percent savings on every online purchase of essential packaging items is an effort to attract businesses that usually shy away from using professional packing materials. - Siri Meripe, Business Associate, PackagingSuppliesByMail.com.
About the company:
PackagingSuppliesByMail.com provides customized packaging solutions to businesses that intend to save on the shipping losses and product damages during transit. Our packaging supplies have totally outperformed tough weather conditions and extreme handling pressures. We continually strive to provide efficient packaging solutions that are also affordable.
Source: PackagingSuppliesByMail
Share:
---
Categories: Business News, Packaging, Shipping
Tags: industrial gloves, industrial supplies, industrial tapes, labels, mailing envelopes, packaging supplies, poly mailers, reclosable bags, stretch wrap
---