"Industrial Sector Moving With High Growth in the Silicone Grease Market" Infoholic Research
Press Release
-
updated: Oct 26, 2017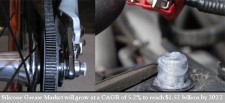 Bangalore, India, October 26, 2017 (Newswire.com) - With its recently published study "Silicone Grease: Global Drivers, Restraints, Opportunities, Trends & Forecast up to 2022", Infoholic Research forecasts that the global market for silicone grease will continue its growth trajectory. Growing disposable income in the developing countries and increasing application sectors of silicone grease are the key market drivers. In addition, rising acceptance among consumers owing to superior performance, wide operating temperature range and chemical resistance are also thrusting the market. This trend is expected to continue during the forecast period and the market will grow at a CAGR of 5.2% to reach $1.52 billion by 2022.
Advancement in technologies and growing environmental concern over usage of hazardous products have added to the growth of the market. Existence of several manufacturing base in developed and developing countries coupled with the booming construction sector has further contributed to the market demand. High price restricts the usage of silicone grease in the low per capita income countries, yet these regions will exhibit a high growth rate during the forecast period in the developing and under developed countries.
Request for sample of the report
@ https://www.infoholicresearch.com/request-a-sample-report/?repid=6657
Automotive sector is one of the major revenue contributors in the Silicone Grease Market. High economical growth and rising per capita income among consumers in the developing countries have increased the demand for automobiles which in turn has positively impacted the market for Silicon Grease. This trend is expected to continue with the automotive sector continuing as the major application sector.
Several alternatives such as water-based and solvent-based petroleum grease among others are available in the market, which has led to intense competition for Silicone Grease Market. Further, relatively cheaper priced alternatives are increasingly being used in the smaller economies, restricting the usage of silicone grease.
"Automotive sector constitutes majority of the market share for Silicone Grease. Increasing trend for green and environment-friendly chemicals is driving the market growth. Asia Pacific currently dominates the Silicone Grease Market owing to large export oriented manufacturing facilities and increasing acceptance among consumers, with maximum contribution coming from China. China will continue to lead in the future years since they have the added advantages of cheaper raw materials and lower labor cost." – Ankur Kalra, Research Manager, Chemicals and Materials.
 Buy complete report on Silicone Grease: Global Drivers, Restraints, Opportunities, Trends & Forecast up to 2022
@ https://www.infoholicresearch.com/report/global-silicone-grease-market-trends-2016-2022/
Key insights of the report
The study has a classification of end-user

Automotive

Construction

Industrial

Mining

Others

Industry outlook: market trends and drivers, restraints, and opportunities
Press and Media Contacts
Bhaskar Jyothi Nath
Infoholic Research LLP
+91-80-22222833, +91-8867685927
Source: Infoholic Research
Share:
---
Categories: Automotive, Chemicals, Construction, Electronics, Heavy Machinery, Mining
Tags: global silicone grease market analysis, global silicone grease market size, global silicone grease market trends, silicone grease market
---