Industrial Metal Supply Celebrates 75 Years of Making Metal Easy
Press Release
•
Oct 3, 2023
Family-Owned Business Grows from One Delivery Station Wagon to 45-Truck Fleet as Largest Metal Supplier to California and Arizona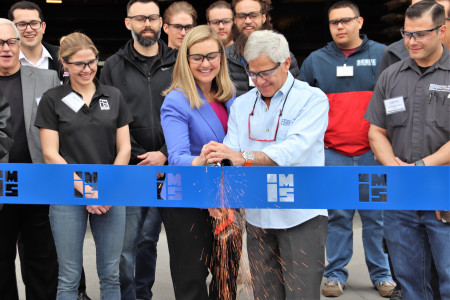 LOS ANGELES, October 3, 2023 (Newswire.com) - Third generation family-owned Industrial Metal Supply Co. (IMS) is proud to celebrate 75 years in business. What started as a single storefront in Burbank, California in 1948 has grown to become one of the largest metal distributors in California and Arizona by serving customers in industries ranging from manufacturing and aerospace to technology, telecommunications, medical devices, fabricators, artists, engineers and contractors with same-day access to an extensive array of metals and accessories at seven locations.
"We're proud and humbled to see how far IMS has come in 75 years, and don't take this longevity, or our valued team members dedication for granted," said IMS CEO Neil Sherman. "IMS customers expect the highest quality materials, unmatched customer service and convenience from our team, and we're proud to exceed their expectations at each of our locations while recognizing this milestone wouldn't be possible without their long-term loyalty."
Founders Norman and Sally Sherman started IMS using their 1940s Pontiac station wagon to pick up and deliver metal to nearby businesses during the day, and to transport their growing family at night. Norman's knack for finding deals and Sally's head for marketing combined to create an ambitious business plan catering to the glitzy demands of Hollywood and aerospace manufacturer Lockheed Aircraft. The nearby movie studios needed metal, and IMS was their behind-the-scenes supplier, meeting every demand of production. From movie sets to silver screens, their metal became part of the magic of movies.
The business expanded quickly under the guidance of their son, Neil, whose desire for growth led to the opening of a second IMS branch in 1989, in nearby Irvine, California. By the late '80s and early '90s new IMS branches sprouted up in San Diego, Phoenix and Riverside. In 2012, Tucson joined the family. IMS currently uses a fleet of 45 trucks to transport thousands of pounds of metal from seven locations in two states.
More recently, a focused investment in technology, equipment and innovation has allowed IMS to expand to new cities, while continuing to provide exceptional customer service and wide product availability to its customers. San Jose opened in 2022 marking IMS's first presence in Northern California. In early 2023, responding to Arizona's technology and manufacturing boom, the Phoenix branch more than doubled in size, moving into a new 160,000 square foot warehouse including a 15,000-square-foot retail store. Still family owned, IMS prides itself on a welcoming business culture, revolutionary operations and providing expedited order fulfillment and easy to shop storefronts stocked with metals for businesses and hobbyists alike.
"We pay close attention to the changing needs of our diverse customers and their business climates to ensure we're helping make their jobs easier through our partnerships," added Sherman. "This continued focus on innovation as needs and industries evolve is a big part of our long-term success."
The tremendous variety of IMS products available to customers includes steel, aluminum, stainless steel, copper, brass, tool steel, lead and bearing bronze. Other items include expanded, perforated and welded wire sheet, casters, welding accessories, ornamental iron, patinas, structural aluminum pipe fittings and hobbyist miniature shapes. IMS stores also stock thousands of metal accessories in a clean, organized indoor space, making it easy for novice metal buyers to navigate.
Sherman concluded, "In addition to providing the highest level of product and customer service, our team is steadfast in our commitment to the community. We seek out and support local charities, high school and college robotics clubs, F1 and Baja college racing and engineering teams."
Learn more https://www.industrialmetalsupply.com or call (602) 454-1500.
Source: Industrial Metal Supply