Indie Hit, A Piggy's Tale, Graphic Novel Released
Press Release
•
Oct 12, 2016
New graphic novel follows the adventures of a super hero dog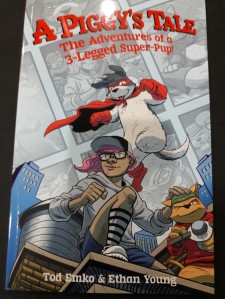 New York, NY, October 12, 2016 (Newswire.com) - A Piggy's Tale, a new graphic novel by Darwin Animal Doctors, follows the super hero adventures of a real life three-legged dog, will be published and available online and in comic bookstores throughout the United States. Proceeds from the graphic novel support animal life saving efforts in developing countries.
From writer Tod Emko (WHALE WARS) and Eisner Award nominated artist Ethan Young (NANJING: THE BURNING CITY, THE BATTLES OF BRIDGET LEE) comes an all-ages adventure that is sure to delight kids and adults alike!
Adventure has a new face, and it's adorable! After an accident takes his leg, a rescue dog named Piggy discovers he has super powers, and must fulfill his fate to save other critters from despair. Accompanied by a street-smart cat and a young woman who can talk to animals, this unlikely trio of heroes must stop evil from befalling victims in New York City.
Praise for A Piggy's Tale:
"But what really surprised me about A Piggy's Tale is that my boyfriend leaned over for a better look as he passed my screen, asked if he could read it right then, and sat and devoured the whole preview and said he'd love to read more"
-The Beat
"Great uplifting story and fantastic art."
-Joe Caramagna (AMAZING SPIDER-MAN, AVENGERS ASSEMBLE)
"Piggy is both adorable and inspiring, on the page and in real life."
-Josh Elder, Founder of Reading with Pictures
FOX Business News names A Piggy's Tale one of the top five coolest things at New York Comic Con 2016, alongside Star Wars, Star Trek, and Wonder Woman exhibits:
- www.foxbusiness.com/features/2016/10/07/5-coolest-things-at-new-york-comic-con.html
A Piggy's Tale is part of humane education program created by Darwin Animal Doctors. Darwin Animal Doctors operates free animal clinics in developing countries where there are no veterinary options.
"Conservation in developing countries often ignores the plight of domesticated animals," commented Darwin Animal Doctors co-founder Andrea Gordon. "With Darwin Animal Doctors, we began our efforts in the Galapagos Islands to spay, neuter, and treat the domestic animals so that they do not overpopulate the islands, spread diseases to the native wildlife, or eat the native wildlife."
Since starting Darwin Animal Doctors in 2010, the veterinarian clinic in the Galapagos Islands has treated more than 10,000 animals and helped rehome animals off of the islands. The funds raised by A Piggy's Tale will enable more animals to be saved and protect the UN World Heritage Site.
Author Tod Emko commented, "Piggy is the dog who inspired this work and creating a graphic novel ensures that his message can be spread worldwide in a fun and creative way."
Source: Darwin Animal Doctors
Related Media
Additional Links