Independent Fashion News Alerts Collectors as Fashion History Goes on the Auction Block
Press Release
-
Jun 2, 2016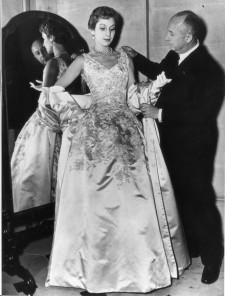 London, United Kingdom, June 2, 2016 (Newswire.com) - " Fashions fade, style is eternal."  -Yves Saint Laurent
With many antiques no longer fashionable, leading investors have chosen to mine for better results in unlikely places.  Vintage haute couture has museums and private collectors worldwide lining up to vie for fashion history and solid returns.  A London auction house is set to sell rare pieces from history and legendary designers including couture and costumes worn by Princess Diana, Madonna and movie legends Lauren Bacall and Rosalind Russell. 
This year's, " Passion For Fashion ", event on June 14 at Kerry Taylor Auctions in London showcases fashion from a host of designers including Paul Poiret, Lady Duff Gordon, Coco Chanel, Yves Saint Laurent and others.  The much anticipated auction features twenty two original Christian Dior couture pieces including an extremely rare early gown from Dior's 1948 'Ailée' (winged) line which was photographed by the legendary Vogue lensman, Irving Penn for the cover of Town and Country magazine in 1992. 
The international multi billion dollar business of fashion owes it's origins, and to a large degree, it's tone and inspiration to the designers Paul Poiret and Lady Duff Gordon. Barely recognizable names today, these early 20th Century pioneers revolutionized style and created the business model that fashion houses still adhere to.
Paul Poiret, (1879 - 1944 ) apprenticed at a young age to a parasol maker and honed his skills making doll dresses from scraps of left over silk. He sold fashion sketches to Parisian designers while still in his teens and landed a job with the House of Worth, the most prominent of couturiers, but shocked Worth's conservative clientele with the modernity of his designs, and the relationship was short lived. 
In 1903, Poiret opened his own design salon causing an immediate sensation with his controversial kimono cut coat fashioned to showcase an uncorseted, slim figure.  Poiret was the first designer to create a signature fragrance, "Parfums de Rosine ", and was also the first to design home decoration and fabrics. 
Poiret refined the dressmaker skill of draping fabric to create a garment, a radical departure from the pattern making and tailoring of the past.  It would become the technique most often employed by the great designers of the 20th Century
Ironically, the success of his extravagant designs of exotic fabrics and trims based on the Arabian Nights and Sergei Diaghilev's Ballet Russes pigeon holed the designer into the past.  High living and a failure to adapt to the rapidly changing styles of post World War I were Poiret's undoing.   With his contributions to fashion design complete by the late 1920's, Paul Poiret died in relative obscurity in 1944.
A contemporary of Poiret, the British designer,  Lucy Christiana, Lady Duff Gordon, ( 1863 - 1935 ), is perhaps better known as one of the survivors of the Titanic.  Born in London, Lucy began designing gowns after a divorce, to support her young daughter.  In 1903, she incorporated her business into the label, "Lucile Ltd." and soon her elegant, ultra feminine soft pastel colored gowns were the favorite of royalty, aristocracy and the biggest stars of stage and film.
Lady Duff Gordon opened salons in London, New York, Chicago and Paris, becoming the first international designer, and is credited with being the first to employ models to walk a runway in theatrically designed fashion shows.  Lucile also designed for the Ziegfeld Follies and early films which further helped to promote her creations.
She recognized the power of celebrity endorsement and wrote weekly fashion pages for the Hearst Newspaper Syndicate as well as a monthly column in Harper's Bazaar and The Ladies Home Journal.  Lucile licensed her name to commercially endorse products such as lingerie, shoes and beauty items and for two seasons sold a lower priced line of clothing through Sears, Roebuck & Co. mail order. 
" Paul Poiret and Lady Duff Gordon revolutionized fashion in the first two decades of the 20th Century.  The concept of designer as artist and celebrity can be directly attributed to them but both failed to adapt to changing times and found themselves eclipsed by newcomers like Coco Chanel with her sleek, modern silhouette and Madeleine Vionnet who embraced the fluidity of the bias cut. ", explained Gene London, fashion historian and couture collector.  London has been collecting haute couture and cinema costumes for over 40 years and considers one French designer the most influential of all.
" The designer who changed the fashion world most was Christian Dior, a true genius and artist who remarkably only designed for ten years from 1947 until his death in 1957, and yet his couture was so ahead of it's time that designers continue to be inspired by it today. "
After the rationing of fabric during World War II, Dior shocked the world by designing gowns of abundant fabric in stark new silhouettes creating what was called  the " New Look ".  The House of Dior continues to dress the fashionable today and is a world leader in fragrance sales.
It is because of their pivotal role in defining the direction of haute couture and the short time they spent in fashion's spotlight, that the designs by Poiret, Lucile and Dior are in such high demand by museums and private collectors who can expect to pay tens of thousands of dollars to claim some of the rarest  pieces of fashion history. 
A full catalog of the haute couture in the June 14 auction may be viewed here :
http://kerrytaylorauctions.com/Catalog/?id=429
To contact the author : 
John D. Thomas
Independent Fashion News
tele :  917 293 1946
email :   INDFASHIONNEWS@AOL.COM
Source: Independent Fashion News
Share:
---
Categories: A&E News, Celebrities, International News, Fashion and Apparel, Financial News
Tags: Christian Dior, Gene London, haute couture, high fashion, investment, Irving Penn, Lady Duff Gordon, Lauren Bacall, Paul Poiret
---