Increases in College Tuition Don't Need to Prohibit People From a Higher Education, Ameritech Financial Says
Press Release
-
updated: Jul 16, 2018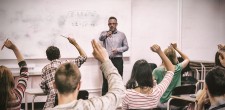 ROHNERT PARK, Calif., July 16, 2018 (Newswire.com) - Inflation is a way of life, and many people love to remember with fondness the cost of a candy bar when they were young and rambunctious. The problem is not that the costs of goods and services rise over time, but that certain consumer goods increase in cost at a rate that leaves regular inflation lagging behind. Paying over a dollar for that favorite candy bar may seem like sticker shock to a person's inner child, but that price does not prohibit a person from enjoying the treat. The cost of a college education, however, falls into a completely different category. Ameritech Financial, a document preparation company that assists student loan borrowers in applying for and maintaining enrollment in federal repayment plans, wishes to remind those in various stages of their education that the rising cost of college should not need to exclude anyone from a higher education.
The cost of higher education has indeed exceeded normal inflation rates. A Harvard graduate from 1988, for example, would have paid just over $17,000 for tuition during their senior year, while a student looking to graduate in 2019 will have to pay over $46,000 for the same amount of schooling. From 1985 to 2011, the average tuition for all colleges nationwide increased 498 percent. This number more than quadruples the 114 percent rate of general inflation over the same time period. 
"College isn't just more expensive than it used to be," Tom Knickerbocker, executive vice president of Ameritech Financial, began. "It's more expensive than it should be. Demand for a college education has gone up much faster than supply. Costs are going to rise in that scenario every time."
College isn't just more expensive than it used to be. It's more expensive than it should be.
Part of the problem that Knickerbocker alludes to is that a college education seems necessary if a person is to find a financially competitive occupation. According to the United States Department of Labor, a college graduate's median weekly income is $471 higher than the median income of a high school graduate with no college experience. With the ease of securing a college loan and the higher earning potential that accompanies a bachelor's degree, it is not surprising that demand, as well as the cost, for a college education has gone up.
"The rising cost doesn't necessarily have to be prohibitive to a college education," Knickerbocker pointed out, "and taking out student loans to pay for an education doesn't always have to strap you down financially. We help people apply for federal income-driven repayment plans, which may allow their monthly payments to stay low enough that they can maintain a quality of life after their expensive education."
Income-driven repayment plans, or IDRs, allow a borrower monthly payments based on income and family size. In this way, monthly payments do not have to scare away a potential college graduate.    
About Ameritech Financial
Ameritech Financial is a private company located in Rohnert Park, California. Ameritech Financial has already helped thousands of consumers with financial analysis and student loan document preparation to apply for federal student loan repayment programs offered through the Department of Education.
Each Ameritech Financial telephone representative has received the Certified Student Loan Professional certification through the International Association of Professional Debt Arbitrators (IAPDA).
Ameritech Financial prides itself on its exceptional customer service.
Contact
To learn more about Ameritech Financial, please contact:
Ameritech Financial
5789 State Farm Drive #265
​Rohnert Park, CA 94928
1-800-792-8621
​media@ameritechfinancial.com
Source: Ameritech Financial
---
Categories: Financing and Student Loans, Financial News
Tags: college tuition, federal student loans, income-driven repayment, tuition increases
---