In the News With the Opening of Scientology Media Productions
Press Release
•
Jun 22, 2016
Facts about the global media center of the Church of Scientology, the longest continually operating studio in Hollywood, now transformed into the state-of-the-art global media center to bring the true story of Scientology to the world.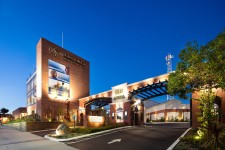 Hollywood, California, June 22, 2016 (Newswire.com) - Scientology Media Productions is a fully integrated digital media production center for TV, Internet and magazines.
Facts About Scientology Media Productions
Scientology Media Productions (SMP) is a universal communications hub extending the creative legacy of the historic and oldest continuously operating film lot in Hollywood.
Sitting on five acres of property and over 14,000 square feet of facilities, SMP is set up for film, television and radio broadcasting.
With 19 cameras for broadcasting, cine and film, 27 miles of fiber optic cables connecting all buildings, and a media center for planning and production, these state-of-the-art facilities will also house the planning, production and publication of Church humanitarian campaigns in 50 languages.
The site was first developed in 1912 by Siegmund

Lubin

as one of the first motion picture studios in Hollywood and, while passing through different ownership, it has been in continuous operation as a studio since then. Silent movie actor Charles Ray acquired the property in 1920. Monogram was next in the 1930s and it later transitioned to Allied Artists. In 1970, KCET became the new owner and operated there until 2011 when it was purchased by the Church of Scientology.
Several well known Hollywood Classics were filmed on the lot including Invasion of the Body Snatchers, Love in the Afternoon and Al Capone.
After acquiring the property, the Church began a massive undertaking to restore the 5-acre lot to its original heritage and beauty, preserving the historic details that make it a part of Hollywood history and a historical cultural monument.
Top restoration specialists were brought on board to assist in the restoration of over 40,000 square feet of exterior brick, including re-pointing 10,000 linear feet of mortar and replacing more than 3,500 bricks, all of which were hand selected to ensure the color and style matched exactly the era when it was built.
Full restoration was done of over 6,000 square feet of original hardwood flooring.
The original "Little Theater," where rushes would be viewed by executives on a daily basis, has undergone transformation to protect and restore it to its original glory.
Restoration was done in coordination with the Historical Resources Group.
At a time when production has been leaving California, the Church of Scientology felt it important to highlight this Hollywood treasure and bring it back to the community. The studios will be available to other film studios and like-minded groups for their own programming and charitable outreach.
Source: ScientologyNews.org
Related Media