In Collaboration With JScreen, Cancer Warrior Lainie Jones Advocates for Genetic Testing
Press Release
•
Aug 22, 2023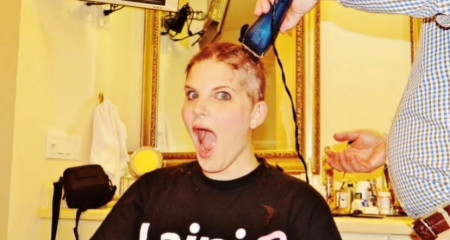 ATLANTA, August 22, 2023 (Newswire.com) - The story of Lainie Jones, a cancer survivor from Fort Lauderdale, Florida, transcends typical narratives about disease. Before the age of 40, she courageously faced down five different forms of cancer caused by Li-Fraumeni Syndrome, an inherited predisposition to a wide range of cancers. Her experience led her to fight not just for her own life, but also for the lives of others.
Jones is renowned for her resilience, buoyant humor, and indomitable optimism, traits that make her a beacon of hope for those wrestling with their own health challenges. With a life so touched by cancer, Jones has dedicated herself to educating others about the power of genetic testing for early detection and risk assessment of hereditary diseases.
This isn't just a cause for Jones, it's personal. She recognizes that "knowledge brings options" and posits that awareness of one's genetic predisposition can help individuals shape their lifestyles and health choices to reduce specific risk factors.
Jones's advocacy is rooted in her personal experience. She has walked the arduous path of illness and emerged as a testament to the resilience of the human spirit. She feels blessed that she regained control of her health largely due to proactive genetic testing and passionately shares her journey to inspire others to do the same.
In collaboration with JScreen, a national non-profit organization that provides genetic screening and confidential support from expert genetic counselors, Lainie Jones' mission to spread awareness about genetic testing has taken a concrete form. She hopes that by sharing the resources available through organizations like JScreen, others can avoid the uncertainty she faced battling cancer multiple times.
Jones expresses, "If I had known about organizations like JScreen earlier, it would have been a game-changer in my health journey. I am driven to advocate for genetic testing, aiming to inspire early detection and help as many people as possible."
Despite her trials, Jones' story is not one of defeat but of unwavering resilience, infectious joy, and devoted advocacy. Every day, she uses her experiences to educate, inspire, and empower others to take charge of their health, underscoring the transformative potential of genetic testing in the fight against cancer.
JScreen is a national non-profit public health initiative dedicated to preventing genetic diseases. Headquartered in Atlanta at Emory University School of Medicine, the JScreen initiative provides convenient at-home access to cutting-edge genetic testing technology, patient education and genetic counseling services. JScreen believes the combination of education, access to premier gene screening technologies and personalized, confidential support are the keys to preventing these devastating diseases.
Source: JScreen
Related Media