Improved Cosmetic Breast Cancer Treatment Manufacturer Launches Awareness Campaign in USA
Press Release
•
updated: Aug 18, 2017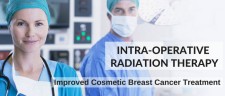 DELRAY BEACH, Fla., August 18, 2017 (Newswire.com) - Rad Onc Solutions, Delray Beach, FL, a distributor of medical devices and accessories, announced today that it has signed an agreement as sales agent for the LIAC, a High Energy, mobile linear accelerator for Electron Beam Intra Operative Radiation Therapy (e-IORT), developed by S.I.T. Sordina IORT Technologies USA, Inc. (SIT), McKinney, TX.
Rad Onc Solutions will campaign to raise awareness of the benefits and costs savings associated with IORT for patients and clinics alike. A large amount of clinical data is already available including such papers as 'Is IORT ready for roll-out?' - Esposito et al., which concludes:
"In light of the existing data, IORT and IOERT should be now considered as an alternative to EBRT for specifically selected and well-informed patients. The higher risk of local recurrence should be widely discussed and compared with the great advantage of a single-fraction radiation treatment. The current paradigm is that of striving to deliver 'minimum effective treatment' to patients with cancer, and with this in mind, it is necessary to inform suitable patients about the novel options for the treatment of their cancer."
Breast Cancer Treatment Using e-IORT at Jupiter Medical Center
Jupiter Medical Center is one of a handful of facilities around the country offering this innovative therapy from SIT, in its world-class Comprehensive Breast Program, which was the first program in Palm Beach and Martin Counties to receive the National Accreditation Program for Breast Centers designation.
Electron Beam Intra Operative Radiation Therapy (e-IORT) provides specialized treatment for cancer patients, especially certain women with breast cancer, allowing physicians to deliver a dose of radiation to appropriate patients during their surgery. By delivering this radiation at the same time the cancerous tissue is removed, six to seven weeks of post-operative radiation can be reduced to one day of treatment in some cases.
Some of the benefits of e-IORT:
Lessened Treatment Time
Reduced Radiation Exposure
Improved Cosmetic Results
Faster Return to a Normal Quality of Life
e-IORT allows radiation and surgical oncologists to visually see the exact area they need to radiate and immediately deliver a therapeutic dose to the affected area, sparing surrounding healthy tissue. In the best of cases, this single dose of radiation will be all a patient needs. For many others, this breakthrough will cut their required course of radiation treatment in half.
About SIT
SIT SpA was formed by the merger of Sordina, founded in 1878, with New Radiant Technology, a specialist in radiation emitter devices. Drawing on the experience of an organization that produced the first operating table, the first sterilizer and the first mobile linear accelerator in history, SIT is now world leader in the manufacture of LINACs for IORT (Intra Operative Radiation Therapy) and operates on every continent, with installations, business units, distributors and engineers. www.soiort.com
About Rad Onc Solutions
Rad Onc Solutions delivers quality products that drive deeper customer relations through broader more strategic solutions. Rad Onc Solutions is a US based company that has an expertise of partnering with innovative companies throughout the World who design Radiotherapy products. Our vision is to bring these technologies from around the Globe to the clinicians and to their patients. www.radoncsolutions.com
Contact:
Martin Clay
Rad Onc Solutions
martin.clay@radonc-solutions.com
+1-561-279-5022
Source: Rad Onc Solutions
Related Media