Impaired Driving Prevention Call-to-Action Mobilizes Georgia Students
Press Release
•
Dec 14, 2022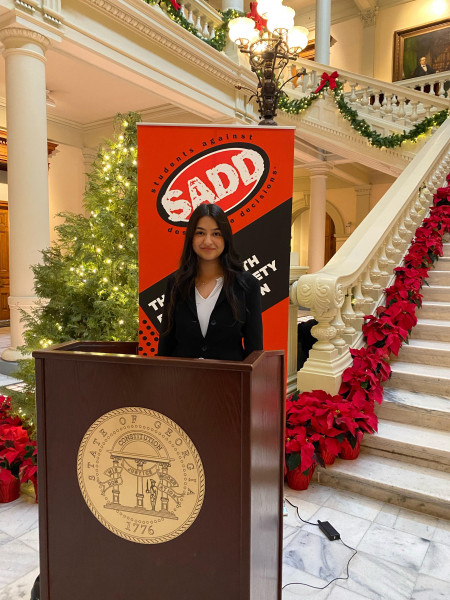 ATLANTA, December 14, 2022 (Newswire.com) - Students Against Destructive Decisions (SADD) and the Coalition of Ignition Interlock Manufactures (CIIM) today launched a call-to-action for Impaired Driving Prevention Month (December) while naming Georgia High School Senior Shreen Shavkani (Alpharetta, GA) as the new National President of the organization.
According to reports from the National Highway Traffic Safety Administration (NHTSA), nearly 32 people are killed daily in the U.S. related to impaired driving. The Georgia Governor's Office of Highway Safety (GOHS) adds that in 2019, almost 25% of all roadway deaths were caused by a driver with a blood alcohol content of 0.08 or higher.
Today's event at the State Capitol brought together national and state leaders to talk about what could be done to change the impaired driving epidemic and celebrate Shavkani's accomplishment as she assumes the role. Speakers at the event included:
- First Lady Marty Kemp, First Lady of the state of Georgia (Invited)
- Allen Poole, Director, Governor's Office of Highway Safety
- Garrett Townsend, Director of Public Affairs, AAA- The Auto Club Group
- Brandy Nannini, Coalition of Ignition Interlock Manufacturers and Smart Start Inc.
- Representative Bill Hitchens
- Representative Jesse Petrea (Invited)
- Rick Birt, President & CEO, SADD
- Shreen Shavkani, National Student President, SADD
Each year, SADD selects one student to serve as the National President, the highest honor bestowed upon a student. In this role, the student serves as the national spokesperson, field media, and legislative interviews. In addition, the National President Chairs the Student Leadership Council, a group of 12 youth leaders that provide a youth perspective on programming, outreach, communication, and more.
"I'm deeply honored to serve as the National Student President for SADD," said Shavkani. "I'm looking forward to collaborating with student leaders, advisors, partners, and the prevention community to keep young people across the country safe."
"Shreen is the definition of a leader. As an organization founded to end impaired driving, there is no better time to make this exciting announcement, as we tackle this issue and so many others that threaten the health and safety of young people," said Rick Birt, President & CEO of SADD.
About SADD
For more than 40 years, SADD, the nation's premier youth health safety organization, has worked to empower students, engage parents, mobilize communities, and change lives around the issues of traffic safety, substance abuse, and personal health and safety. SADD equips students with the resources they need to advocate for change in their communities through a national network of peer-led chapters in middle schools, high schools, and colleges. Join the movement by visiting www.sadd.org and following us on Facebook, Twitter, YouTube, and Instagram.
####
Source: Students Against Destructive Decisions (SADD)
Tags