Impact Theory Launches 'Tom Bilyeu Español' - Spanish-Dubbed Episodes of Its Hit YouTube & Podcast Series
Press Release
•
Sep 12, 2022
Expands Empowerment Storytelling to Its Global Community with New Spanish-Language Versions of "Impact Theory with Tom Bilyeu" Interview Episodes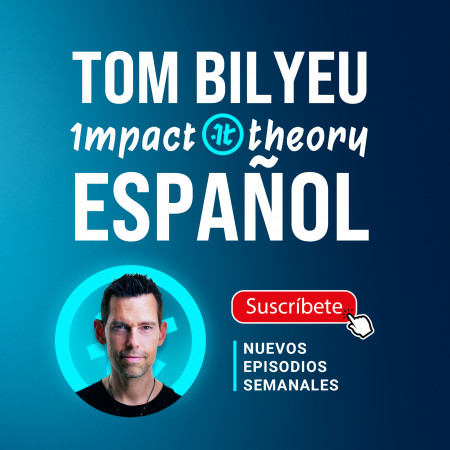 LOS ANGELES, September 12, 2022 (Newswire.com) - Impact Theory, the entertainment studio dedicated to stories of empowerment, is today launching TOM BILYEU ESPAÑOL - a Spanish language translation of episodes from its hit series on YouTube (https://bit.ly/3TzDa2h) and podcast.
"We are committed to spreading stories of empowerment to our global community," said Impact Theory co-founders Tom & Lisa Bilyeu. "TOM BILYEU ESPAÑOL brings our message of growth mindset and personal empowerment to an even broader audience, beyond our 10 million loyal community members."
First episodes at TOM BILYEU ESPAÑOL will be dubbed versions of popular Impact Theory interviews Tom had conducted with special guests including Joe Dispenza, Wim Hof, David Goggins, Sadhguru, and David Sinclair.
IMPACT THEORY is the studio founded by entrepreneurs Tom & Lisa Bilyeu, dedicated to empowerment, sharing inspiring stories and meaningful experiences around belief in oneself. A new kind of studio where storytelling, tech, and community collide, Impact Theory platforms include hit interview shows Impact Theory and Women of Impact (available on YouTube and podcast), Impact Theory University (curriculum with actionable lessons to build a growth mindset), scripted stories (feature films, television, webcomics, and books in development) and Web3 experiences on the bleeding-edge of technology, delivering full interactivity and immersion. Impact Theory has grown a community of 10 million subscribers & followers worldwide.
Impact Theory Studios is the groundbreaking and empowering production company delivering stories that inspire people to become the best versions of themselves. Each week, IT Studios releases transformative content including its flagship series Impact Theory, where Quest Nutrition founder/filmmaker/IT Studios CEO Tom Bilyeu delves into the minds of entrepreneurs, entertainers, athletes, scientists, authors, artists, thought leaders, and visionaries to help viewers unlock their true potential, and Women of Impact which features IT Studios President and author Lisa Bilyeu interviewing women who have overcome incredible hardships to achieve massive success.
Past Impact Theory guests include Mark Zuckerberg, Ray Dalio, Neil de Grasse Tyson, Tony Robbins, Jordan Peterson, Sam Harris, Esther Perel, Mel Robbins, Andrew Huberman, Gary Vaynerchuk, Matthew McConaughey, John Travolta, Kathy Bates, Kevin Bacon, Hilary Swank, Jay Shetty, David Goggins, Marissa Peer, Wim Hof, Dr. Steven Gundry, Dr. Daniel Amen, Robert Greene, TD Jakes, Tony Hawk, Michael Strahan, Danica Patrick, Maria Sharapova, and Dr. Joe Dispenza.
Source: Impact Theory