iMetal Resources Inc. (TSXV: IMR)​ Strengthens Its Advisory Committee
Press Release
-
updated: Apr 17, 2017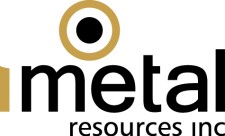 Vancouver, BC, April 17, 2017 (Newswire.com) - ​​​​​iMetal Resources Inc., (iMetal or the company) (TSXV: IMR)​ is pleased to announce the appointment of Jim Dawson, M.Sc., P.Eng., Brian Fagan, and Michael Blanchard as additions to the company's Advisory Committee. Each of these gentlemen possess invaluable experience in their respective fields that will greatly contribute to iMetal's success on all fronts.
Jim Dawson, M.Sc., P.Eng. is President of Dawson Geological Consulting Ltd., a successful thirty-five-year-old geological consulting company, headquartered in Vancouver, BC. He has been a Professional Consulting Geologist for over thirty years and a Director of Public Companies in the Mineral Resource Industry for over twenty. As a partner with Kerr, Dawson & Associates Ltd. from 1972 to 1985, he participated in the discovery of the Blackdome Mine, Frasergold and Taurus Properties in British Columbia, and the Big Horn Mine in Arizona. He was an Independent Director of Minefinders Corp. Ltd. for sixteen-years until it was acquired by Pan American Silver Corp. for $1.6-billion. He was a Director and Member of the Technical Advisory Board of Kaminak Gold Corp. since December 2006 until it was acquired by Goldcorp in May 2016 in an all-stock transaction valued at $520-million. Jim was also part of the original Pan Ocean team which made the discovery of the Lac Cinquante U-Mo Occurrence in 1975. Currently, he is a director of Kivalliq Energy Corp., Wealth Minerals Ltd., and New Dimension Resources. He graduated from Memorial University, Newfoundland, with a B.Sc. in 1960 and an M.Sc. in 1963. Jim's input and insight on iMetal's geological matters will be invaluable.
Brian Fagan has over 35-years of hands-on experience in all aspects of the mineral exploration sector and related securities business. Moving from Rhode Island, USA, to Vancouver, BC, with his wife and three young children in the early seventies, he immediately went to work in the securities business as a desk trader. In a very short-time-span, he advanced from desk trader, to floor trader, to Registered Representative, to Managing Director of a local Vancouver based Brokerage Firm.  While still Registered, he brought his first mineral exploration company public on the former Vancouver Stock Exchange (VSE).  Shortly after that, he resigned from all his security company registrations and positions to concentrate on forming and managing public mineral exploration companies. During the following years he formed, financed, and managed three additional exploration companies through the facilities of the former VSE. Publicly and privately, he has operated and/or managed successful mineral property acquisition/exploration programs in Canada, United States, Mexico, and Argentina. In 1995, Brian launched The Fagan Report (TFR) a subscription based newsletter concentrating on Canadian listed resource companies. During the fifteen-year continuous publication of The Fagan Report, he was a sought-after speaker and commentator at major resource investment conferences, radio, TV, and financial publications. Brian currently publishes a complimentary online Digest, www.StocksAndSpeculations.com - An International Forum for Stock Speculators. iMetal is excited to have Brian accept a position on its Advisory Committee and provide his expertise, connections, and contributions to the daily operations of the company.
Michael Blanchard is a seasoned Digital Marketing executive with a focus on market penetration, online lead generation, increased investor engagement and interaction, effective social media, and mobile device presence. Previously a managing partner of WSI, the world's largest Digital Marketing agency, he is Google AdWords and Google Analytics Certified. He has worked with business leaders and entrepreneurs across Canada to cost effectively unlock the full potential of the Internet through innovative digital marketing. Michael is creating a digital platform that will enable iMetal to exponentially increase its ability to deliver its development story to the investment public.
The company also announces that it has granted incentive stock options to, consultants and advisors to acquire a total of 1.25 million common shares of the company at an exercise price of five-cents per share for a period of five years based on the closing price of the company's shares on the TSX Venture Exchange on Thursday, April 13, 2017.
About iMetal Resources Inc.: iMetal is a rapidly emerging mineral exploration company focused on the acquisition, exploration, and development of mineral properties that exhibit commercial potential in the mining-friendly, title-secure Provinces of Ontario and Quebec, Canada. With its broad management experience in junior resource acquisition, exploration, and development — iMetal is well positioned to aggressively advance and augment its promising property portfolio for its shareholders.
ON BEHALF OF THE BOARD OF DIRECTORS,
Johan Grandin
President & CEO, iMetal Resources Inc.
JGrandin@iMetalResources.ca
Source: iMetal Resources Inc.
---
Categories: Investments, Stocks, Business Finance
Tags: imetal, imetal resources, mineral exploration
---